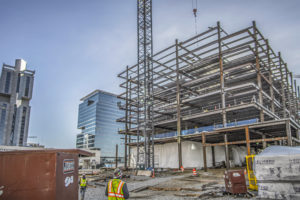 Charlotte-based developer, Crescent Communities, and general contractor, Brasfield & Gorrie, are pleased to announce the topping out of Ally Charlotte Center, the 26-story, 742,000 square-foot office building at the corner of Stonewall Street and Tryon Street in Uptown Charlotte. Both the Crescent Communities and Brasfield & Gorrie teams celebrated the milestone by gathering at the construction site to sign the final beam early today.
Crescent Communities broke ground on the mixed-use development in early 2018. Space in the tower is 76% leased, with Ally Financial occupying more than 400,000 square feet. Adjacent to the office space, White Lodging is constructing the JW Marriott, a 381-room luxury hotel. The project also includes 25,000 square feet of retail space fronting Tryon, Stonewall, and Hill Streets, which Asana Partners is under agreement to acquire.
Ally Charlotte Center was designed by Little Diversified Architectural Consulting. The structure rises 427' in height and includes 26 stories, of which 3 include penthouse appointments. The average floor size is 29,950 square feet.
"We are delighted that Crescent and Brasfield & Gorrie have reached this construction milestone and look forward to delivering an exceptional building to our lead occupant Ally Financial in the first quarter of 2021," commented Todd Mansfield, CEO of Crescent Communities.
"This project will have a significant impact on Uptown Charlotte as it dramatically increases the area's office space and retail capacity," said Brasfield & Gorrie Vice President and Division Manager Michael Byrd. "We are grateful to continue our relationship with Crescent Communities while investing in Charlotte's development."
Both Crescent Communities and Brasfield & Gorrie made a commitment early on to enhance opportunities for minority and underutilized businesses to be included in the bidding process for the project. To date, more than $7 million in work on this project has been completed by these teams. To kickstart this initiative, the teams hosted a series of events, forums and information sessions to inform the subcontracting community about its projects and arranged introductory sessions matchmaking minority and underutilized businesses with larger subcontractors and general contractors.
Comments
comments