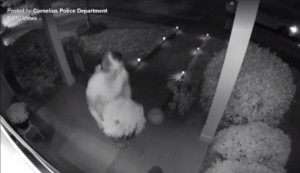 This past week the Cornelius Police Department posted a short video from a Nest home surveillance camera showing a flower pot thief in the act.
They uploaded the video to their official Facebook page to ask for the public's help in identifying the thief:
"Can you help us identify these suspects? Another larceny case being investigated by the Cornelius Police Department, this time involving a plant and home surveillance video!
On Sunday, Sept. 17 at approximately 8:25pm, a white female suspect driving a white sedan, stops at a residence in the Alexander Chase community and removes a plant from the front porch. After returning to the vehicle, another white female passenger wearing a black leg brace approaches the home and shines a flashlight towards the camera.
The Cornelius Police Department is asking for assistance in identifying these females. Anyone with information is asked to call us at (704)892-7773."
Here's the video of the flower pot thief:
Within hours, the entire town of Cornelius started sharing the video…but most seemed to be doing it for the comic relief rather than for crime prevention purposes:
The video has already been shared over 100 times and has been viewed over 8,800 times (the entire population of Cornelius is only 28,500).
If you have any flower pots outside, you might want to consider getting one of those motion lights (Amazon has solar-powered ones for $15).
If you see a woman with a blond ponytail wearing a LuLaRoe Carly dress, please call the Cornelius Police Department at (704) 892-7773.
Comments
comments