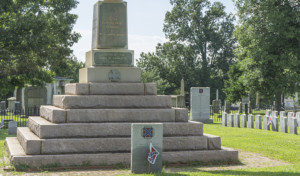 In light of this past weekend's White Supremacy rally in Charlottesville and the illegal removal of a Confederate statue in Durham, the CMPD announced this week that they will be heightening security at Charlotte's 2 Confederate memorials in Elmwood Cemetary and CPCC's Central Campus.
Officers are being instructed to perform periodic checks of the memorials and to monitor activity around the sites.
Charlotte's largest confederate monument sits in Elmwood Cemetery in the Northwest corner of Uptown. It includes several large markers around the perimeter;
This one was moved from Old City Hall on Trade Street after it was vandalized in 2015;
The memorial features one of the largest obelisks in Charlotte in its center (which reads: To The Confederate Soldiers of Mecklenburg County – Erected by The Women of Charlotte 1887);
And over 250 grave markers for Confederate soldiers surrounding the center obelisk;
Charlotte's second Confederate monument stands in front of Memorial Stadium on the campus of CPCC Central. It commemorates a reunion of Confederate veterans in Charlotte in June of 1929, and includes an inscription that reads; "they preserved the Anglo-Saxon civilization of the South."
Although Governor Cooper just announced that he will be taking steps to remove all confederate monuments in North Carolina, there's no telling when or if the monuments here in Charlotte would ever be removed.
The governor would have to change the currently standing law that prevents any historical monuments from being moved or taken down, and he is going to have an uphill battle against the Republicans, who still have a super majority in the North Carolina General Assembly.
It's also unclear what monuments Governor Cooper was referring to when he made his announcement – does he just want to remove confederate statues, or all monuments, including grave markers?
What are your thoughts about the Confederate monuments in Charlotte?
Do you think they should be removed?
Comments
comments