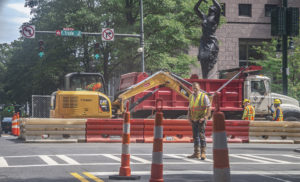 Inman has just released a new report that names Charlotte among one of the 10 most likely markets to 'boom' over the next 5 years.
The report names; Charleston, South Carolina; Charlotte, North Carolina; Colorado Springs, Colorado; Columbus, Ohio; Dallas-Fort Worth, Texas; Las Vegas, Nevada; Fort Collins, Colorado; Ogden, Utah; Durham-Chapel Hill, North Carolina; and Tampa-St. Petersburg, Florida as cites that are now set to boom due to their healthy economic and housing markets.
According to the report, "the Carolinas led the way with four markets making the list. New and current residents in Charleston (121,584), Charlotte (366,084), Raleigh (220,849) and Durham (84,419) collectively made more than 792,000 moves from 2015 to 2019."
It's noted that while the majority of Charleston and Raleigh/Durham's new residents came from nearby cities, the majority of Charlotte's newcomers came from New York.
Do you think Charlotte is ready to boom? 
Comments
comments