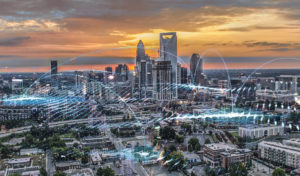 Location, location, location doesn't just apply to your first apartment; it also refers to what city you move to. Yes, there are tech jobs everywhere but some cities have more of a payoff. So, if you want to be surrounded by the brightest minds then look no further: these are the 5 top tech cities.
1. St. Louis
St. Louis has made a big push to encourage innovation, with access to local startup accelerators and funding. Because of the infusion of technology across nearly every industry, coupled with the state's lower cost of living, St. Louis is ripe for expansion of its technology workforce. St. Louis is expected to be one of the fastest-growing cities for technology jobs in the upcoming years. 
2. Charlotte
Over the last 10 years, Charlotte has seen an explosion in the number of tech jobs. Charlotte is one of the fastest-growing markets in the nation, and that trend doesn't seem to be slowing down. Charlotte's cost of living is 5% lower than the national average. The housing market in Charlotte is tight. Finding that perfect Charlotte Home for Sale is getting better, although, homes are still selling fast, prices are increasing and demand is still growing. If you're looking for the perfect Southern city, Charlotte seems almost too good to be true.
3. Huntsville
Located in northern Alabama, Huntsville has been a tech center since the 1950s, when the U.S. Army put a group of scientists there to boost the country's space program. 
The presence of what became NASA has served as a constant draw for the area. With the median early-career job paying $59,000 and median rent just $950 a month, it's easy to live comfortably in Huntsville. Huntsville is by far one of the best places in the country for the number of high tech jobs. 
4. Portland
Places like San Francisco, Silicon Valley, and Seattle are all well-known for their tech industry. However, the cost of living is simply unaffordable for many. While Portland isn't cheap, it's definitely less expensive than the major tech hubs. Many people in the tech industry are moving here, and companies are following. 
5. Philadelphia
As the largest city in Pennsylvania, the home of several firsts in history and technology, and the host of a robust tech startup scene. Philadelphia boasts a mass of universities and talented employees, resources for entrepreneurs and innovators like the Pennovation Center and the University City Science Center, easy access to other major tech cities and markets, and an incredibly affordable cost of living compared to other tech cities across the United States. 
Comments
comments