The following is a guest submission from Charlotte residents, Kimberly and Preston Medlock
My husband and I visited St. Maarten a couple of years ago and fell in love with the island.  Needless to say, we were very sad when we learned of the Cat 5+ hurricane that slammed the island and did so much damage this past September.
Last fall, when we started to plan our end-of-year vacation in conjunction with our wedding anniversary (#28 this year!) we decided that we would make this year our first "volunteer vacation" and go somewhere and volunteer in some way (and still however make the time for a little fun and down time).  We decided our destination would be sunny, beautiful St. Maarten.
We found a very affordable last-minute cruise deal that had St. Maarten as their third stop, so we thought, why not enjoy the first few days on the cruise as our "vacation" part and get off the boat in St. Maarten and take it from there.
When we arrived on Jan. 11, we didn't have a very specific plan, but we were determined to help!  And believe me, you could easily see that the need was great.  We couldn't believe the conditions of so many still five months after the hurricane.  (Keep in mind that 80% of the jobs are the lower wage and tourism based, so the hurricane was so much worse for them.  Many of the hotels, the airport and the cruise terminals were severely damaged.  On top of that, their government has been ridiculously slow to help and clean up.)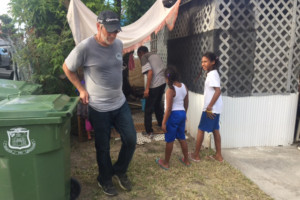 So, we decided we would just start helping anyone, anywhere with anything we could … taking a Random Acts of Kindness approach and it was awesome!
I can say we encountered countless "God winks" during this journey (do we have some good stories to tell!). For instance, on day one we actually ran into someone for whom we had met from our previous trip there three years earlier and told him what we were up to.  He was very thankful and encouraging and offered to talk to someone that might help us find a place to stay and get in touch with people that could give us direction for our mission.  And so it began. We ended up being able to stay at a great place (right on the beach!) called Mary's Boon!
We kind of had a goal in mind to find a single-mom or elderly persons that might need some help with clean-up and/or home repairs.  We didn't have to look far. We met Mr. Junior about two blocks away.  He was an elderly man that lived in a very small, very damaged "house" with his sister and her two daughters.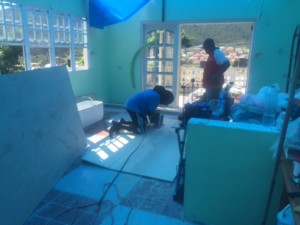 We were able to help them with some cleanup efforts, paid for Mr. Junior's doctor visit (he had a severe leg infection but couldn't be seen until a new government insurance card was reissued), bought groceries and got their clothes washed at the laundry mat (instead of having to use the bucket, water hose outside). The next three days were spent at the Red Cross, sorting donations and cleaning up the surrounding property.  There we met a lovely couple from Holland also there volunteering while in St. Maarten visiting their son and his family (who was an engineer working on the airport project).
Meanwhile, back at the hotel, one of the workers who heard about our mission happened to know the owner of the local rock-n-roll radio station, Island92's "Dr. Soc" (his DJ name) and we were invited to stop by the station. (Keep in mind you can drive around the entire island in about 30 minutes, so everybody knows everybody!)  Dr. Soc knew of a local young man, who despite his own troubles and needs, was out helping as many needy elderly people as possible to repair or replace their roofs.  That's how we met Drae Douglas (most people call him "Fresh"), a great guy with a big heart!  Drae's "real" job is selling jet ski rides mostly as a shore excursion from the cruise stop passengers.  However, with the severe reduction in cruise ships able to come into the port now, he has a lot more free time on his hands.  But instead of complaining, he started helping. I'm talking long days in the hot sun repairing roofs for little old ladies, kind of help asking for nothing in return.  Drae and his small team are willing to help with the labor but obviously can't afford the materials, so they do the best they can with what they can come up with.   (Here is his Facebook page if you want to see some great pics/stories of those he is helping – https://www.facebook.com/refreshsxm/)
This is how we came to meet Ms. Trudy.  An elderly widow who had her roof ripped off by Irma (and no electricity) and had been living in the muck until Drae came along.  Preston and I felt led to purchase the initial $800 of roof supplies needed for her home and the very next day, Drae and his small team were there and busy!
The need is HUGE and while Drae and his small volunteer crew are willing to give their time for the countless roof repair needs on the island, obviously they need money to do so.  So, Dr. Soc, (also a Rotary member) connected us with a small local non-profit foundation called "BeTheChangeSXM" who in turn graciously agreed to sponsor a GoFundMe campaign to help provide more roofing materials for the poorest in the community and still living under tarps.  He also agreed to manage the account and disperse the funds incrementally per each project.  Wooohooo!
Here is the link – https://www.gofundme.com/be-the-change-foundation-refresh/donate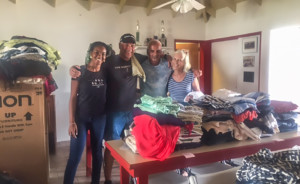 If you feel led to help, please know that any amount helps and will make a difference!
Also, I encourage you to plan your own vacation to St. Maarten as the tourism accounts for 80% of their economy.
Lastly, I also encourage you to consider your own "volunteer vacay" anywhere you decide to go (or even a "volunteer staycation here in Charlotte!).
Selfishly speaking, for us there turned out to be many perks and extra blessings we didn't expect!
We were immensely blessed by the gratitude of so many.
There was a couple from Michigan at our hotel for whom we shared our story with and they sought us before leaving just to say that they had been inspired by our story and decided to get more involved in some of their local charity opportunities back home.  (An unexpected ripple effect!)
Someone picked up our dinner tab one night as a thank you.
We gained new friends!  When you volunteer alongside someone all day, you get to know nice people!
Several people went out of their way to thank us, help us or give some kind of support… it was awesome!
"As we work to create light for others, we naturally light our own way."  M.A. Ramacher
Comments
comments