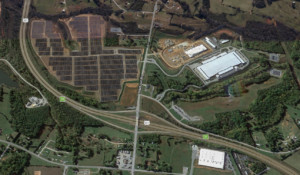 The Catawba County Board of Commissioners recently agreed to approve another expansion by Apple in Maiden, NC – an expansion of about $1 billion.
Apple has already spent over $3 billion to build it's revolutionary data center and solar farm in North Carolina for it's ever expanding iCloud service (storing the trillions of photos, videos, songs, files uploaded by Apple users, and how-to videos teaching people random skills like how to buy stocks online).
Analysts with the Catawba County Economic Development Corp. now predict the company is likely to spend another $1 billion over the coming decade, which would bring their total investment North Carolina to just over $5 billion.
The data center is so big that Apple had to build the nation's largest privately owned solar farm across the street just to power the center.
Apple first started its North Carolina data center project back in 2009 with an initial investment of $1 billion investment to build it's first server building. The company has now spent a total of $3 billion on its sprawling complex, including over 300 acres of solar panels.
Apple currently employs about 400 people in Catawba County.
Comments
comments