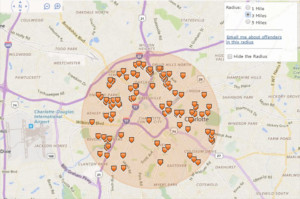 This weekend, thousands of Charlotte area children will be knocking on strangers doors asking for candy – while this tradition is usually harmless, parents should be aware of any potential dangers.
The Mecklenburg County Sheriff's department usually releases a notice to all registered sex offenders to keep their porch lights off and to not decorate their homes for Halloween so that children won't come to their door – but there is no guarantee they will listen.
The department is encouraging all parents to check the North Carolina Sex Offender Registry at sexoffender.ncsbi.gov/search.aspx and to see where any registered sex offenders might be in their neighborhood, or where their children plan on trick-or-treating.
Here are the neighborhoods with the highest and lowest number of registered sex offenders, according to the site:
Highest number of registered sex offenders (zip code):
#1 – 28208: Ashley Park, Seversville (102 total)
#2 – 28216: Oakdale South, Oakdale North, Washington Heights, Oaklawn (85 total)
#3 – 28206: Sugar Creek, Druid Hills North (76 total)
Lowest number of registered sex offenders (zip code):
#1 – 28201: Fourth Ward, First Ward (1 total)
#2 – 28207: Dilworth, Myers Park (2 total)
#3 – 28204: Elizabeth (3 total)
Please help spread the word! 
Comments
comments