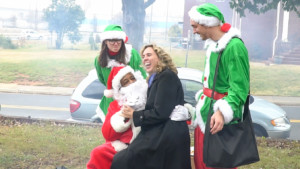 Charlotte is modern, Southern, and progressive. It has short winters which makes it a great place to be at Christmas since although there is snow on the ground, it is easy to get around and enjoy what the city has to offer. The city has a couple of sports franchises, and since it has become a giant banking centre, the number of good restaurants has exploded. The city has national acclaim and status for its DNC convention, NASCAR, concert venues, museums, and an active art scene.
Uptown
Uptown Charlotte was the original meeting point of two Native American trading paths, which later became Trade and Tryon streets. Here you can find eateries, museums and historical landmarks.
Shopping
For last-minute Christmas shopping, Overstreet Mall has a variety of speciality shops and for a unique to Charlotte gift, the Visitor's Info Center at the corner of Tryon Street and Martin Luther King Jr. Boulevard stocks high-end locally made products, including seasonal Christmas gift ideas. The 7th Street Public Market has a mix of shopping and food, where you can find local vendors selling their wares.  If you are looking for clothes, the South End neighbourhood is home to many boutiques.
Eat
In Uptown, you can find a wide range of cuisines, from sushi to an open barbecue chicken sandwich to a fine dining experience. If your party wants a mix of different foods, try one of Charlotte's central food hubs which have something for everyone. These can be found on the 7th Street Public Market, the Epicentre, or Brevard Court.
NASCAR Hall of Fame
If you are new to NASCAR, the Hall of Fame offers an excellent introduction to racing and its history. The Charlotte region is home to 80 per cent of racing teams, so this is the best start you can have on the subject. Here you can also test your skills on a racing simulator, participate in a pit crew simulation where you pretend to change a tyre and refuel the car as well as finding out about the sport's moonshine roots.
Nightlife
Charlotte has a thriving nightlife, with lively bars and venues. You can unwind with craft beers in a local bar or catch a movie and sip cocktails at the Epicentre in Uptown. The AvidXChange Music Factory offers a programme of stand-up comedy, live shows, and dance floors.
Check out the programmes at Charlotte's live music venues, including the PNC Music Pavilion, Blumenthal Performing Arts, Spectrum Center and The Bojangles' Entertainment Complex and other venues around the city.
Carolina Panthers
Watch Charlotte's NFL football team, Carolina Panthers, who will be playing throughout December at the Bank of America Stadium. Games alternate as home and away matches each Saturday. Aside from NFL football, you can also get tickets for local NBA basketball, professional hockey, baseball, and soccer games.
Museums
Charlotte is home to some renowned art institutions and museums, but if you get to see only one museum in Charlotte, making it the Levine Museum of the New South. The main focus is to look at how culture and society have changed since the Civil War and features racial, ethnic, gender and societal issues. There are some fascinating exhibits filled with memorabilia as well as more sobering exhibits. There are also temporary exhibits, some of which have won national awards and gone on tour. 
Other museums you may also want to visit are the Mint Museum, North Carolina's first art museum; Bechtler Museum of Modern Art; Harvey B. Gantt Center for African-American Arts + Culture and for a family-friendly attraction, try Discovery Place Science. 
Comments
comments