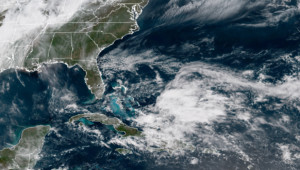 Hurricane season typically runs from June 1 to Nov. 30, but violent storms do have the potential of developing at any time. A recent disturbance in the force of a Carribean cold front has now created the conditions for the possible formation of a tropical storm.
As of this morning, the National Hurricane Center (NHC) has not yet highlighted this disturbance as an "Invest"—an area of interest capable of becoming a tropical cyclone, but meteorologist Jeff Masters with Weather Underground thinks there's about a 10% chance that it could develop into a tropical storm.
He notes that a 'named storm' in the Atlantic before May 15th is extremely rare, historically, but we have had one every year for the past 3 years.
"It's uncommon to get a tropical or subtropical depression in the Atlantic by May 15. According to the NOAA Historical Hurricane Tracks website, this has happened 11 times since satellites began monitoring the ocean in the 1970s, with 7 of these depressions going on to become named storms–about a 1-in-7-year event. However, we have had Atlantic named storms form by May 15 the past three years in a row–an event with a 0.3% chance of occurrence based on statistics from the past 48 years." Those 3 storms were May 8, 2015: Tropical Storm Ana, January 12, 2016: Hurricane Alex, and April 20, 2017: Tropical Storm Arlene.
If this disturbance does turn into a tropical storm, the first name on the list of Atlantic storms for 2018 is Alberto.
Comments
comments