Do you run a nonprofit, and are you looking to raise money? If so, running a charity online is undoubtedly a viable way to get the finances you need. The reason for this is that the Internet is, more than ever, a part of our daily lives, so it's logical to keep up with this trend. With the prevailing global crisis discouraging social gatherings, online charity appears to be the ideal way to go. 
With that said, you still might be skeptical about whether this is the best route to take. If that's the case, you're in the right place. Let's dive straight in and see the benefits you'll enjoy from conducting a charity online. 
Unlike traditional fundraising, running a charity online on platforms such as Givebutter enables you to circumvent geographical restrictions. This is because you can use these platforms to spread the word about your online fundraising to a greater audience. As a result, you can attract a greater number of new supporters and potential donors and create a friendly competition or thrill amongst participants. 
Thanks to this, you can generate a greater sum of money as opposed to if you tried to raise funds through traditional methods. 
It's easier to know whether your efforts to raise money are successful through an online charity, unlike traditional fundraising. This is because conventional financing typically takes a couple of weeks to several months before you can know whether the whole process is a success. But, for the online charity, you only need a maximum of 48 hours to know whether your efforts are in vain. You also don't need to spend a lot of time and resources planning an online fundraising charity than with a traditional charity. 
Receive Donations In Numerous Methods 
During fundraising, you need to provide your donors with the option to offer what they have. This is something that running an online charity allows you to achieve as you get your donations in different forms. For instance, your donors can donate their payments directly through various platforms such as PayPal and card payments like credit and debit cards. Doing this gives your potential donors the motivation to donate to your charity. 
Because of the variety of donations received, you can easily bridge donations to the needy and homeless, for instance, whether in cash or in kind.  
Traditional fundraising is usually expensive as it comes with certain costs such as renting a hall, entertainment costs, and costly dinners. But, with an online charity, you save yourself from these expensive costs. Moreover, you don't have to deal with costs such as in-person solicitation, over mail costs, and conventional office costs. You also don't need to set aside money for printing costs, envelopes, paper, and stamps. 
Therefore, running a charity online helps you reach a greater audience without spending a considerable sum of money. This goes to show why it's the perfect way to get the needed finances from your potential donors. 
No Social Gathering Needed 
The current global crisis has made it necessary to maintain social distancing to curb the deadly coronavirus from spreading. This is what running a charity online has helped to achieve. This is one thing that would be hard to accomplish while running a traditional charity wherein there's a need to host a large social gathering of people during the event. As a result, your donors can still make their donations without compromising their well-being, thanks to online charities. 
Improved Data And Reporting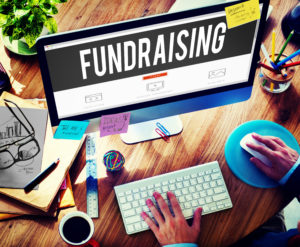 Another advantage of conducting an online charity is that you get useful data and statistics which can be used to better plan for future events. This is first achieved because all the useful data collected gets recorded. Therefore, this allows you to monitor valuable data in real-time such as: 
The individuals who contributed 

How much money has been raised 
Having these crucial metrics recorded, you get to track the incoming funds in real-time to monitor the incoming funds better. After doing this, you'll get a better image of your charity efforts. Likewise, online charity reduces chances of human error from happening. This is because you're less likely to enter or omit a zero while listing the donations. Thanks to this enhanced data reporting, you'll effortlessly monitor your data and report how your programs are running. 
More Personalized And Targeted 
Running an online charity allows you to target a specific demographic. This is even more important when you're targeting the younger individuals as they're more inclined to use the Internet. Therefore, if reaching out to them is your desired goal, marketing yourself to seek donations from online giving platforms and mobile apps will reap the desired rewards. 
Encourages Recurrent Donations 
The success of your nonprofit organization usually depends on recurrent donations. This is something you can only achieve by running online fundraising as opposed to a traditional charity. The reason for this is such events encourage your donors to sign up for monthly donations through debit or credit cards. Another convenient and secure payment option you can offer your attendees is PayPal. 
Improved Donor Relationship 
Besides seeking donations from your attendees, you also want the entire process to flow smoothly and without any possible conflict. This is what running a charity online enables you to achieve, as this whole process is easy and straightforward. Because of this streamlined process, your donors won't resist going into their checkbooks to offer your organization the needed support. 
Other than their donations, online charities give you access to your donors' contact details. Therefore, you can go ahead and start building a relationship with them by developing a series of welcome emails to kick start a positive relationship with them. 
Takeaway 
When you need money to help in a particular cause for your nonprofit, running a fundraising is necessary. With the changing times, doing this online is the way to go, and this has also been the case with charity. Highlighted above are some of the benefits you'll get for running a charity online. Therefore, it's clear that it's a great fundraising strategy to help you achieve your desired goal. 
Comments
comments