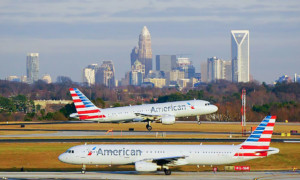 HMSHost is hosting a job fair to fill a variety of positions at various restaurant locations at Charlotte Douglas International Airport including Starbucks, Panda Express, Chick-fil-A, Beaudevin, Dale Jr's Whisky River, 1897 Market, Stock Car Café, and Tequileria.
They'll be hiring 60 permanent full-time employees, including; Snack Bar Attendants $10.25/hour, Starbucks Baristas $10.75/hour, Chick-fil-A Crew Members $10.35/hour, Utility/Dishwashers $10.15/hour, Cooks $10.40/hour to $12.30/hour (DOE), Shift Supervisors $12.50/hour, Cashiers $10.25/hour, Maintenance Workers $13.50/hour, Warehouse Workers $12.50/hour to $14.50/hour and Restaurant Managers – salary based upon experience. Positions offer an array of benefits from a 401K plan, Medical, Dental, and Vision Insurances, Vacation Pay, Sick Pay and Tuition Reimbursement.
When: Wednesday, June 6, 2018 from 10:00 am – 4:00 pm
Where: Comfort Suites Northlake, 7315 Smith Corners Blvd, Charlotte, NC 28269
You can email Sean Matthews at: Sean.Matthews@HMSHost.com or 240-694-4290.
Comments
comments