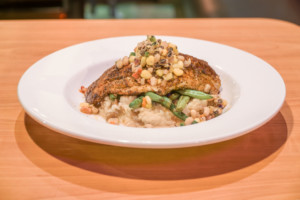 The Queen City was recently ranked as one of the best food cities in America by Zagat, topping regional favorites like Charleston (#11) and Atlanta (#10), as well as global heavy-hitters like NYC (#21) and San Francisco (#20).
Charlotte landed at the #9 spot, largely due to several critically acclaimed new openings in 2016, including; O-Ku, Yafo Kitchen, and Stoke.
Zagat compiled the list by assessing the number of unique new openings, award recognitions, and national media attention, then asked some of the nation's top food critiques to weigh in on which locales they thought were the most exciting.
Here is Zagat's reasoning for why Charlotte is now the 9th best food city in America:
"Once known only as a sports-centric center of commerce, Charlotte has emerged as the new destination for adventurous, landscape-driven cuisine. There's no shortage of up-and-coming chefs, like Chris Coleman, whose wood-fired oven at Stoke is churning out stellar plates like salt- roasted oysters and charred octopus with Virginia chorizo; or Michael Chanthavong, who just brought over his Asian-meets-Southern spot, O-Ku (with a killer uni pasta). Charlotte has also become popular among established industry vets looking to find the next big hospitality market: Corkbuzz, the accessible wine bar from New York, just opened in the city (helmed by Master Sommelier Laura Maniec), as did Yafo Kitchen, a bold Middle Eastern spot with a menu developed by Einat Admony of New York gems like Taim and Balaboosta. Even Wolfgang Puck couldn't resist the opportunity to land in Charlotte, entrusting longtime mentee Stephen Schmitt to oversee the kitchen at his brand-new concept, WP Kitchen + Bar, which serves crowd pleasers like linguini diavolo and turkey Bolognese. With dozens more openings anticipated for next year — and plenty of other chefs making the move to Charlotte from big cities like San Francisco and New York — this burgeoning dining scene is only just getting started."
Do agree with Zagat's assessment?
Comment below with your thoughts about Charlotte's food scene. 
Comments
comments