After just 7 seasons of even having a football program, a walk-on UNC Charlotte linebacker has just been chosen in the 3rd round of the NFL draft.
The Pittsburgh Steelers officially selected Alex Highsmith last night in the 3rd round of the NFL draft at number 102 overall.
Highsmith was overlooked by all major collegiate football programs while at Ashley high school in Wilmington. He decided to attend UNCC and join the 49ers football team without a scholarship or any accolades to his name.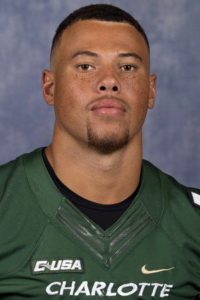 "Coming in (to UNCC) as a walk-on, I just wanted to prove people wrong and show people that I could play," Highsmith remarked to the Niner Times. "I just wanted to keep my head down, be the first one to enter the building and the last one to leave… people didn't want me, so that's one of the things that motivates me as well."
He noted that the most important factor in his determination and ultimate success was his Christian faith.
"Jesus died for me, I've got to live for Him. That's why it's so important because all the things in this world are fleeting. I love this game of football, it's amazing, but it's not my God. I've tried to put my identity in the sport at times and it's let me down. This game, it's great, but it's not going to be God," Highsmith said. "Having a foundation in Christ is so important to me because Jesus Christ is the same forever. Today, yesterday, forever. That's why it's so important; He gave it all for us, so we've gotta give it all for Him."
After spending his redshirt freshman season working on strength and learning his new position at OLB, Highsmith earned a 49ers scholarship. He finished his senior year at Charlotte ranked fourth in the nation with 14 sacks (2019) and was named to the NFL All-Combine team. He recorded the fourth-fastest 40 time (4.7 seconds) among all defensive linemen.
Here are just a few epic clips showing Highsmith's raw talent:
BEAST 😤#SteelersDraft | @highsmith34 pic.twitter.com/27VmWPWpIP

— Pittsburgh Steelers (@steelers) April 25, 2020
Here was the moment it happened:
When dreams became a reality for LB Alex Highsmith! #SteelersDraft

📺: NFLN/ESPN/ABC pic.twitter.com/sEoWE0xkDk

— Pittsburgh Steelers (@steelers) April 25, 2020
Comments
comments