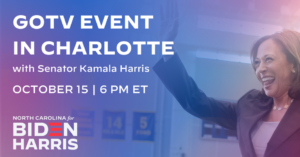 VP candidate Kamala Harris has just announced plans to visit the Queen City tomorrow as part of her 2 stop tour in North Carolina. According to her campaign, she will speak at Uptown Charlotte's Truist Field tomorrow evening from 6pm-7pm.
Attendees will be required to wear a mask, practice social distancing, have their temperature checked, and complete a COVID safety questionnaire before entering.
Harris will be visiting Charlotte and Asheville this week specifically to coincide with North Carolina's early voting schedule, which officially runs from October 15-31.
Ahead of her visit to the Tar Heel state, she released the following video for local residents:
Ahead of the start of early vote, @KamalaHarris has a message for you North Carolina. pic.twitter.com/lW49D5a2cs

— Maya Humes (@mayanjeri) October 10, 2020
To sign up for the event, you can register here.
Comments
comments