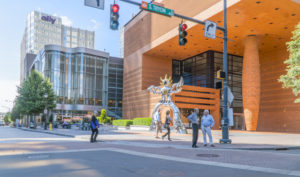 Do you feel like your business could get more attention than it currently is? You always want to make sure that your company is able to attract as many customers as possible. In this day and age, one of the best ways to do so is with digital marketing.
Fill in Your Google My Business
The first thing you should do is fill in your Google My Business account. You will no doubt have seen these when you search for a business on a search engine. It will have lots of useful information that consumers need to know, such as opening times and address. It also has a review section that your customers can use to let others know about your business.
One of the key reasons to fill this out is to give information not just to your customers but to the search engine itself. Search engines use complex algorithms to scour your website and other data you create about your business to best rank your pages online. You need to make sure that you are giving them as much information as you can. One of the easiest and best ways to do so is with your Google My Business account, so you cannot afford to pass it by.
Content Creation
So, how do you give search engines data? One of the best ways is through content creation. There are so many ways you can do so. Many brands like to set up a blog. Here they can post pieces explaining their products and offering fun insights on trends and more. Through the right collection of keywords, a blog can be used to elevate your exposure on search engines, thereby increasing its exposure overall.
However, we are firmly in the modern era. Blogs are no longer the only way to do things. Many brands are beginning to throw themselves fully into video creation. If a brand wants to do this themselves, they could be creating promo videos explaining their products and announcing new deals. Brands can also pay a professional content creator or influencer to give their product a shout-out or review in a video. 
There are many ways to use content to bring exposure to your business in this day and age. You simply need to work out which will appeal most to your brand. Again, you can use specific keywords to rank these posts and videos you are making for more exposure from search engines and other search functions. By doing so, there is more of a chance that your brand will be discovered by someone who has been looking for a product just like what you offer.
Social Media
Right alongside content creation comes social media. This is one of the biggest developments of this century thus far. No matter the size of your business or the position it occupies in the market, you need to make sure that you have some form of social media in place. Twitter is popular for marketing purposes. As long as you have the correct strategy in place. Many marketers are now using the auto follow method to great effect.
For one, it has often replaced certain aspects of customer service nowadays. While customers will reach out through email still, they are more inclined to send a direct message to a brand instead of calling them on the phone. 
Social media also allows for a level of interaction between brands and consumers in a way that has been difficult to do before. Your consumers will react within your comments to the posts you make, and you get the chance to respond to them as you choose. Through platforms like Instagram, you can choose to repost the content your customers make. Great examples of how this can best work can be found in the fashion and beauty industries. They choose the best of the best to put on their own pages. These reposts are often made through influencers and creators tagging the brands, potentially generating exposure through their own follower counts, This is just one of the many ways you can make social media work for you as a brand, and you need to find the right methods that work for you.
High-Quality Everywhere
Once you have gained exposure for your business, you need to make sure that you are able to keep the attention of these customers. The best way to do so is to ensure that you have the highest-quality throughout your sites and online platforms.
You cannot afford for anything to be too lax. In this day and age, it is entirely possible to find top-quality graphic designers and web designers at any price point. By putting in the work needed to find them, you will be able to get the content you need – whether that is a high-quality website or the best email templates for your newsletters.
Whatever you decide to get, you need to make sure that it is packed with the right links and data for search engines to rank you well. Once you are ranking well, the prestige of your website should then be able to attract more customers. Never underestimate the power of a high-quality and well-designed website. Increasing dwell time and other important factors will be key in using digital marketing to create the best website and online space possible.
Start Making Changes Today
Increasing exposure to any business is not something that will happen overnight. This is going to require a lot of very hard work that may have to go through several rounds of testing and adjustments. There will be some things that you get right first time, and others that are a lot more complicated.
If you are searching for ways to bring more exposure to your business then digital marketing definitely has the answers you could be looking for. By taking a look at your current approach, you should be able to find some new techniques that could work for your business. Make sure your search engine optimisation is top-notch, and don't forget to address your social media. Before you know it, your engagement could be on the way up!
Comments
comments