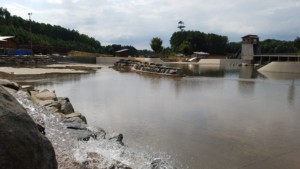 Officials at the US Whitewater Center have notified the county that they now expect the lower pool to be completely filled up by this coming Tuesday, with over 12 million gallons of water.
The Health Department came to an agreement last week with the Whitewater Center to continually monitor the water above and beyond any local and state regulations once they resume public water activities.
The water was originally drained last weekend, about a month after the death of a girl died from a water-born amoeba that was contracted at the Center.
Since the incident, local and state health and environmental agencies have teamed up with the CDC to drain water, clean channels and develop a new filter system.
Earlier this week, The NC Public Health Director Dr. Marcus Plescia stated "We remain engaged with the whitewater center and will continue monitoring the situation to ensure that no imminent public health risk exists."
Are you excited about rafting once again at the Whitewater Center?
Comments
comments