Today, University City Partners reveals the University City vision plan, Connecting: People. Places. Nature. The plan will inform future development for the Charlotte submarket and help to transform University City from a suburban landscape into a more urban, walkable and dynamic space for residents, businesses, students and professionals.
Connecting will support growth in University City, one of the fastest growing parts of Charlotte, through four focus areas:
Urban transit-oriented development along the light rail and in the town center,
A greenbelt that delivers mobility and recreation,
Building character and culture, and
Providing 21st century mobility.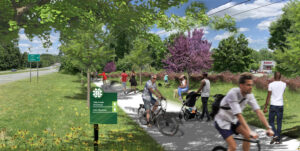 "We took great time and care to capture community interests and needs in developing the vision plan," said Darlene Heater, University City Partners Executive Director. "Through many meetings and thoughtful research, we have a plan that recognizes existing assets and calls us to leverage those strengths through targeted investments that will yield amazing results for this special part of Charlotte."
Connecting was created in partnership with community residents, businesses, institutions and government leaders over the course of two years. The vision plan is a guiding document that builds upon adopted City of Charlotte Area Plans for University City and the most recent Charlotte Future 2040 Comprehensive Plan. It is also a living document that leaves room for adjustments as new ideas, technology or needs emerge.
"University City is a unique submarket teeming with opportunities to build a modern-day community that satisfies and inspires its residents, business community and students," said Tobe Holmes, University City Partners Director of Development. "Connecting was carefully drafted to support transit-oriented development, mixed-use business centers, safety, accessible neighborhoods, and a forward moving community. You will find key suggestions to inform mixed-use development patterns, pedestrian infrastructure, multi-functional greenways, multimodal hubs,  placemaking and the like."
University City is a center for essential and innovative business, home to nearly 65,000 residents and 33,000 university students and graduates. Recent developments in University City include the LYNX Blue Line extension, UNC Charlotte Marriott Hotel & Conference Center, a growing entertainment district, Waters Edge University Place, Aria at the Park, and the building of Centene's East Coast headquarters. Connecting: People. Places. Nature. is available to explore at universitycitypartners.org/connecting.
What do you think about the new plan?
Comments
comments