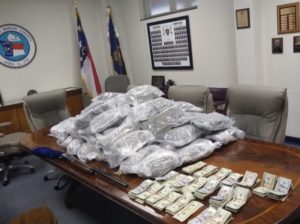 Two Salibury men are now facing major drug trafficking charges after police pulled over their car and discovered over 102 lbs of marijuana, worth an estimated $204,000, in the vehicle.
According to the Rowan County Sheriff's Office, a tip was sent in about suspicious activity involving a commercial car hauler from California.
Investigators with the Special Investigations Unit followed the hauler and saw it transfer boxes into a gold Nissan Versa. They then followed the Versa to 475 Roseman Road in Salisbury where they watched the men unload some boxes into an outbuilding.
Officers then obtained a search warrant for the property. They found a total of 64 lbs of marijuna in the outbuilding, another 5 lbs in the house, and another 33 lbs in the Versa, as well as $29,295 in cash and a shotgun.
Jose Manuel Escobar-Mendez and Antonio Segundo Rosales were both charged with trafficking marijuana and conspiracy to traffic marijuana. After their arrest, they were placed under $150,000 worth of bonds and released.
Comments
comments