I think it's safe to say at this point that the 2015 Carolina Panthers are clearly the best team in the history of the NFL.
There's only ever been one undefeated team – the 1972 Miami Dolphins (17-0) – but that was almost 45 years ago, back when teams could easily stack their rosters year after year – teams were way more unbalanced back then.
It's an entirely different league today. The NFL is now designed to be balanced, so a season like the Panthers are having is a truly unique phenomena.
Here are the top 10 reasons why no one can deny that this year's Panthers are the best of all time;
#1 Cam Newton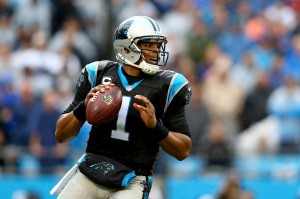 Cam is about to be the first person ever to win the Heisman, National College Championship, NFL MVP, and Superbowl – he's now being ranked as the greatest quarterback of all time.
In just 5 short years, he's already surpassed the stats of many of the greats – throwing for an impressive 18,263 yards, 117 TDs, 64 INTs, 88.2 rating, 60% completion percentage, 3,207 rushing yards, and 43 rushing touchdowns (tying Steve Young for the most career rushing touchdowns ever by a quarterback).
Newton is 6'5″ and weighs about 245 pounds. Bruce Smith, one of the best pass-rushers of all time, played at 6'4″ and 265 pounds. So Newton is almost the same size as a Hall of Fame defensive end. Steve Young, by comparison, is 6'2″ and weighed 215 pounds when he played.
Young ran a 4.53 40-yard dash. Newton ran a 4.59 despite weighing some 30 pounds more.
There's never been a quarterback as big, fast and powerful as Newton. None have even come close.
"He's probably the most dangerous quarterback in the NFL" Broncos cornerback recently commented to reporters.
#2 Tie For The Most Single-Season Wins in History
We've already had our best regular season in franchise history, we're now the 7th team to win at least 15 regular season games since the NFL expanded to a 16 game schedule in 1978.
If and when the Panthers beat the Broncos in Super Bowl 50, they'll tie the 1984 49ers (15-1 regular season, 3-0 post season), 1985 Bears (15-1 regular season, 3-0 post season), and 2007 Patriots (16-0 regular season, 2-1 post season) with 18 wins in a single season.
Again, in the history of the NFL, only 3 teams have ever done this – the Panthers are about to be the 4th.
#3 First Team Ever To Start 10-0 After A Losing Season
Last year, the Panthers finished their season with a overall losing record of 7-8-1, this year, we started our season with a 10-0 record – no team in NFL history has ever done that good after a losing season.
Also, we're the first team in NFL history to start 11-0 after a losing season, oh, and 12-0, and 13-0…..and 14-0 (now officially the best start to a season by an NFC team in NFL history).
#4 Greg Olsen, Josh Norman, and Ted Ginn Jr.
Greg Olsen, a two-time Pro Bowler, is by far one of the most underrated tight ends ever (not surprising, considering how under-rated all the Panthers are). He finished the 2015 NFL season with top ranking stats – he was second in total receiving yards among tight ends (1,104), fourth in receptions (77) and sixth in touchdowns (7) on the team that ran the ball more than anyone else.
Josh Norman has already racked up 4 interceptions, 110 yards, and 2 touchdowns so far this season (higher stats than most offensive receivers in the league this year). The 28-year-old cornerback is constantly being compared to many of the top defenders in the entire league. Josh, along with Robert McClain, Roman Harper, and Kurt Coleman helped the Panthers lead the NFL in interceptions with a total of 24.
Ted Ginn Jr. is the Panther's ultimate swiss army knife – catching passes, running reverses, returning punts, and chasing down the occasional interception, he can truly do it all. Ginn caught 44 passes for 739 yards and a career-high 10 touchdowns in the regular season.
#5-9 Luke Kuechly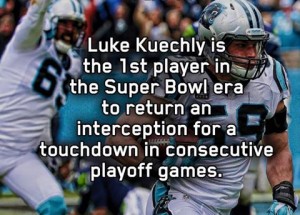 Luke Kuechly and Thomas Davis are the heart and soul of the defense and are easily the best pair of linebackers in the league.
Kuechly, was the ninth pick in the 2012 draft, and quickly became a true Panther sensation. The Boston College star led the NFL in tackles (164, 103 solo) as a rookie and was named AP Defensive Rookie of the Year. A year later, he won AP Defensive Player of the Year. He has been All-Pro three years running.
He's now a true defensive pillar on par with Cam Newton on the defensive side of the ball. Kueckly is only 24 years old, and yet he already calls out defensive signals like a veteran – he also led the Panthers this season with 118 tackles. He returned an interception for a touchdown in both Panthers playoff victories, and he'll certainly be one of the best players on the field for Super Bowl 50.
#10 We're About To Achieve An All-Time Winning Record
The Carolina Panthers currently have 175 wins, 175 losses, and 1 tie since they joined the NFL in 1995.
When they win the Superbowl this year, they will have 176 wins – the last time they had an all-time winning record was back in the 1998 season.
Fun fact: this will be their record when they win Super Bowl 50;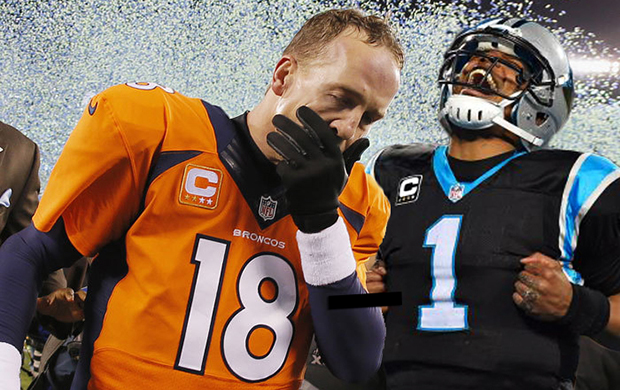 Please share if you're a Panthers fan;
[one_third]


[/one_third] [one_third]


[/one_third] [one_third_last]


[/one_third_last]
Comments
comments