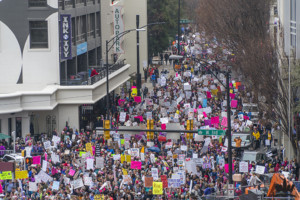 Over half-a-million students are now signed up to march tomorrow in cities around the country to protest gun violence and demand stricter legislation.
The movement, which is now being called "March For Our Lives", was inspired by the Florida students who fought for their lives during a school shooting in February.
According to their website, "The mission and focus of March For Our Lives is to demand that a comprehensive and effective bill be immediately brought before Congress to address these gun issues. No special interest group, no political agenda is more critical than timely passage of legislation to effectively address the gun violence issues that are rampant in our country."
There are currently over 800 marches planned for tomorrow, including a scheduled rally in Uptown Charlotte. The event will start at 11 am in First Ward Park. Speakers will include two former Sandy Hook Elementary students who were inside the school when gunfire broke out in 2012.
The ridesharing company Lyft has even offered to give free rides to and from the rally in Charlotte.
To get a free ride;
Claim your spot by RSVPing to the rally at www.marchforourlives.com/events.
Ride codes will sent out to those who have RSVP'd through www.marchforourlives.com/events.
Ride codes will also be available at www.lyft.com/MFOL starting Saturday morning.
Once you have received a code, enter it in the 'promos' tab of your Lyft app.
For the code to work, you must enter the official March for Our Lives rallypoint as your destination.
You can find rallypoint details in your app once you enter your code in the 'promos' tab.
Comments
comments