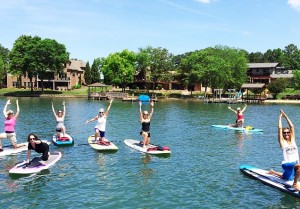 A relatively new company on the shores of Lake Norman is changing how people travel around the lake. When Rob Bennett first introduced stand-up paddleboarding to Lake Norman about five years ago, he had to show people pictures to even explain what it was – now people can't seem to get enough.
Over 8,000 people have already taken lessons at Bennett's 'My Aloha Paddle & Surf Shop' in Cornelius in the past five years. He also hosts annual competitions for charity that draws even bigger crowds – so far he has raised about $30,000 for local charities.
After paddleboarding his whole life in Hawaii and Miami, he realized that the trend could really take off on a lake with constant calm waters and countless natural coves. 5 years ago he moved from Miami to Cornelius and opened his 1,300-square-foot shop right down the road, in the Water Street Seaport Marina complex off West Catawba Avenue.
Rob is now offering 45% off all paddleboard rentals on Lake Norman here.
This video shows some clips from a recent class at Rob's shop;
Comments
comments