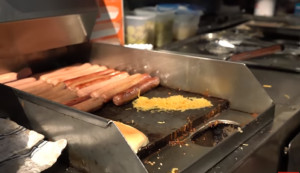 Charlotte's most popular hot dog vendor has been named the best in America by Money Magazine.
Money recently teamed up with Yelp to search out the best places in the country to find the classic all-American treat. They used a combination of Yelp user reviews, their star-rating system, and reviews for other online sources to determine the final ranking.
Charlotte's own Chili Man was officially ranked #1, beating out Arizona's legendary Wild Dogs (#2) and Alaska's iconic International House of Hot Dogs (#3).
The Money report gives the Chili Man high praise for his unique charisma and wildly creative recipes;
Chili Man holds the top spot in part due to its charismatic owner, Vic Werany. Regulars describe Werany as a "nutball," frequently wearing a Captain America T-shirt to work amid the bankers in downtown Charlotte. Charlotte Magazine named Werany the Charlottean of the Year last year for his help creating a nonprofit to support a neighbor with spina bifida.
Chili Man's specialty hot dogs include the Naco Dog (part hot dog, part nacho, part taco) — a hot dog with grilled cheddar cheese, chili and taco sauce. For all dogs, you can choose between beef, bratwurst or tofu dogs — price is $2.50 to $4.50, depending on the meat — and get unlimited toppings.
Charlotte Stories recently went Uptown to film Vic's epic 'opening day' experience (thanks to EndZoneFans for filming);
Not only does Vic make some of the greatest hot dogs in the world, he has also started an incredible charity here in Charlotte to help out families with special needs children.
You can follow Vic on his Facebook page here to find out about his hours and daily dog specials.
Comments
comments