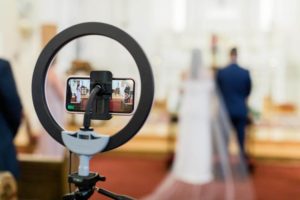 Planning a wedding can be a challenging business. With so much to organize, finding the perfect venue or location on the right date can sometimes be a step too far. 
And this year (and even next year as well), after all the cancellations and delays brought on by the difficulties of the last couple of years, finding a venue that isn't already booked up is going to be tough.
But you shouldn't have to compromise on date, or excitement, when it comes to your big day. So if you are struggling to find the right place to tie the knot, why not consider going down an alternative route, getting a little creative, and choosing a destination wedding cruise instead?
A destination wedding cruise is a superb choice for adventurous couples who want to add a little extra magic to their wedding day, and love the idea of exploring the world and seeing somewhere new as they get hitched. A destination wedding cruise offers a stunning, unique setting for a wedding, and a one-of-a-kind experience. You can even combine your wedding day with a wonderful beach vacation! What's not to love?
So if you are tempted by the idea and want to ensure the most romantic wedding cruise ever, here are a few ideas for planning the perfect cruise destination wedding. 
How do cruise weddings work?
Cruise weddings work a lot like traditional weddings, with the extra-added bonus of stunning views and a unique venue! Lots of cruise lines have dedicated wedding coordinators who can arrange almost anything you need, from flowers and specific catering to live music. Some couples choose to get married on board ship, while others prefer a 'destination' wedding in port, but it is really up to you. 
What ship/itinerary should you choose?
The most important consideration when choosing a ship for your destination cruise wedding is space! Firstly, make sure they have a suitable space for the event itself. This is normally not a problem, as cruise ships almost always come with plenty of ballrooms and event spaces, but you want to be certain you will be married in style. You'll also want to ensure that the ship has a bridal suite, as state rooms and cabins tend to be on the smaller side, and you don't want to be cooped up on your wedding night! When it comes to itineraries, five to seven days is probably ideal – long enough to be memorable, without being prohibitive for guests.
Are there any legal issues?
It is important to research the legal requirements for getting married on a cruise, whether you are tying the knot on board or in port. For weddings on land, different countries will have different requirements, and it is important to make sure everything is done correctly. Weddings carried out on board will need to adhere to the requirements of the country where the ship is registered. These issues are all usually easy to resolve, but it is worth planning in advance. 
What are the most popular destinations?
With stunning beaches, crystal-clear warm water, and a delightful climate, the Caribbean is probably the most popular destination for wedding cruises. But there are so many options to choose from, and really no 'wrong' answers! You could opt to say 'I do' on top of a glacier in Alaska, on the historic walls of a fortified colonial city in South America, or floating elegantly down a river in central Europe. When it comes to a cruise wedding, the choices are endless!
Comments
comments