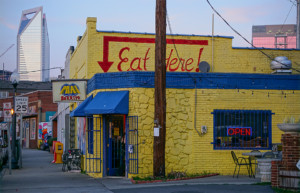 Another icon of South End is about to close it's doors. The owner of Phat Burrito just confirmed with the Observer that they will be shutting down for good this coming Saturday (Feb. 4th).
Over the past week, they've been operating shorter lunch-only hours of 11am to 3pm, but after rumors began spreading of a shut down, owner Stephen Justice confirmed it was true.
He said their customers have been slowly disappearing, with less foot traffic coming from the old Common Market, and fewer people wanting to deal with all the construction.
After the announcement was made this morning, people turned out in droves to offer their support, and to order what might be their last Phat Burrito ever.
This is line out door at @PhatBurrito a mere 20 minutes after opening today. @theobserver announced its closing its doors Saturday. pic.twitter.com/SouiCYSFum

— Molly Grantham WBTV (@MollyGrantham) February 2, 2017
Most of the construction is coming from the new office being built across the street from Phat Burrito, where the old Common Market and Black Sheep Skate shop used to stand.
The new office building will be 8 stories tall with 285,000 total square feet – it will include at least 15,000 square feet of retail on each of the buildings corners.
What do you think about the continual re-development of South End?
Do you think the same thing will happen to NoDa when the new Light Rail Extension is completed?
Comments
comments