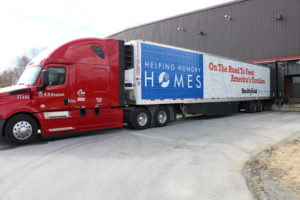 Smithfield Foods, Inc. just donated more than 70,000 pounds of meat to the Second Harvest Food Bank of Metrolina in Charlotte to support the food bank's mission to eliminate hunger. The contribution was part of the company's 2019 Helping Hungry Homes® donation tour, an initiative focused on alleviating hunger and helping Americans become more food secure. The donation, equivalent to more than 280,000 servings of meat, will support Second Harvest's efforts to feed those in need across 19 counties in North and South Carolina.    
"Protein is the most sought-after donation item for our food bank, and we are very grateful to Smithfield for this gracious contribution," said Kay Carter, CEO of Second Harvest Food Bank of Metrolina. "We strive to provide basic nutritional items to families and individuals who are in need and, with Smithfield's support, we are able to ensure everyone in our service area is provided for." 
More than 527,000 individuals in the 19-county region that Second Harvest Food Bank of Metrolina operates in live at or below the poverty level. The food bank has experienced a rapid increase in food assistance requests, supporting more than 188,000 children and 41,000 seniors annually. 
This is the 36th large-scale protein donation made by Smithfield to food banks across the country during its 2019 Helping Hungry Homes tour. Since the program's inception in 2008, Smithfield has provided more than 130 million servings of meat to food banks, disaster relief efforts, and community outreach programs nationwide.
"At Smithfield, we're passionate about fulfilling the needs of our local communities—especially to our neighbors in areas like North Carolina that we call home," said Jonathan Toms, associate manager of charitable initiatives for Smithfield Foods. "Our partnership with Second Harvest is extremely rewarding as we continue the fight to alleviate food insecurity together."
For more information about Smithfield Foods' Helping Hungry Homes® initiative and a list of upcoming donation events, visit helpinghungryhomes.com.
Comments
comments