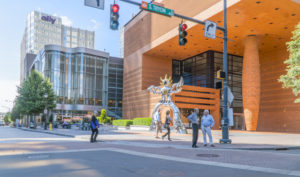 With 35 percent of small business owners saying their business cannot survive more than three months in current conditions, WalletHub today released its report on the States with the Most Affected Small Businesses due to Coronavirus.
To identify the states in which businesses are hit hardest by COVID-19, WalletHub compared the 50 states and the District of Columbia across 12 key metrics. Our data set ranges from the share of small businesses operating in highly affected industries to small-business credit conditions and the state's small-business friendliness.

North Carolina was ranked as the 9th most affected and South Carolina was ranked as the 5th most affected.
States with the Most Affected Small Businesses due to COVID-19
| Overall Rank | State | Total Score | 'Impact & Access to Resources' Rank | 'Small-Business Financial Conditions' Rank | 'Business Environment & Workforce Support Conditions' Rank |
| --- | --- | --- | --- | --- | --- |
| 1 | Hawaii | 69.87 | 2 | 22 | 2 |
| 2 | Nevada | 64.86 | 3 | 10 | 9 |
| 3 | South Dakota | 62.93 | 5 | 21 | 14 |
| 4 | Mississippi | 60.72 | 10 | 9 | 10 |
| 5 | South Carolina | 59.63 | 7 | 5 | 30 |
| 6 | Louisiana | 57.68 | 34 | 1 | 3 |
| 7 | Arizona | 56.96 | 13 | 28 | 7 |
| 8 | Nebraska | 56.77 | 15 | 25 | 8 |
| 9 | North Carolina | 56.67 | 21 | 13 | 11 |
| 10 | North Dakota | 56.52 | 18 | 23 | 12 |
| 11 | West Virginia | 56.15 | 6 | 11 | 38 |
| 12 | Georgia | 55.66 | 28 | 8 | 6 |
| 13 | Kentucky | 55.28 | 16 | 26 | 18 |
| 14 | Tennessee | 54.86 | 25 | 4 | 20 |
| 15 | Montana | 54.27 | 1 | 42 | 49 |
| 16 | Florida | 54.17 | 22 | 2 | 27 |
| 17 | Idaho | 53.62 | 8 | 14 | 47 |
| 18 | Wyoming | 53.45 | 4 | 27 | 50 |
| 19 | Maine | 53.20 | 19 | 18 | 25 |
| 20 | New Mexico | 51.66 | 9 | 49 | 21 |
| 21 | New Hampshire | 51.39 | 12 | 51 | 1 |
| 22 | Arkansas | 49.54 | 27 | 6 | 33 |
| 23 | Kansas | 49.49 | 36 | 29 | 15 |
| 24 | Washington | 48.80 | 20 | 24 | 37 |
| 25 | Vermont | 48.52 | 17 | 48 | 22 |
| 26 | Virginia | 48.45 | 35 | 39 | 5 |
| 27 | Alabama | 48.08 | 24 | 35 | 32 |
| 28 | Michigan | 47.93 | 44 | 37 | 4 |
| 29 | Delaware | 47.89 | 31 | 30 | 26 |
| 30 | New York | 47.46 | 29 | 20 | 34 |
| 31 | Iowa | 47.26 | 33 | 31 | 24 |
| 32 | Alaska | 46.83 | 23 | 3 | 51 |
| 33 | Indiana | 46.50 | 41 | 33 | 16 |
| 34 | Oklahoma | 46.46 | 26 | 17 | 44 |
| 35 | Utah | 46.41 | 14 | 44 | 35 |
| 36 | California | 45.95 | 43 | 32 | 19 |
| 37 | Rhode Island | 45.76 | 32 | 43 | 23 |
| 38 | Colorado | 45.21 | 11 | 45 | 43 |
| 39 | Texas | 44.24 | 37 | 12 | 42 |
| 40 | Maryland | 43.27 | 38 | 46 | 17 |
| 41 | Missouri | 42.33 | 40 | 15 | 39 |
| 42 | Oregon | 42.32 | 30 | 38 | 46 |
| 43 | New Jersey | 41.93 | 50 | 7 | 29 |
| 44 | Minnesota | 41.23 | 39 | 40 | 28 |
| 45 | Illinois | 39.54 | 46 | 16 | 40 |
| 46 | Connecticut | 36.62 | 47 | 36 | 41 |
| 47 | Wisconsin | 36.25 | 42 | 41 | 45 |
| 48 | Ohio | 36.13 | 48 | 47 | 31 |
| 49 | Pennsylvania | 34.63 | 49 | 34 | 48 |
| 50 | Massachusetts | 31.88 | 45 | 50 | 36 |
| 51 | District of Columbia | 29.57 | 51 | 19 | 13 |
Comments
comments