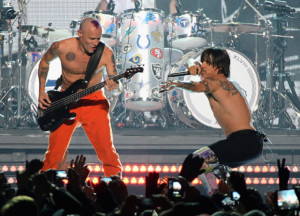 The Red Hot Chili Pepper's new"Getaway Tour", including a signature show in the heart of the Queen City. They are now scheduled to perform tomorrow at the Spectrum Center (April 17th at 8pm).
The funk-rock band is best known for their for '90s/'00s funk-rock hits like "Scar Tissue", "Otherside", "Higher Ground" and "Under the Bridge". The band is led by singer Anthony Kiedes and bassist Flea, both 54, longtime drummer Chad Smith, 55, and 37-year-old guitarist Josh Klinghoffer (who first joined the band in 2007).
This will be the Red Hot Chili Peppers' third performance in Charlotte's uptown arena, after 2012's "I'm With You Tour" and 2007's "Stadium Arcadium Tour".
Here's a fan video from their last concert in Charlotte:
For tickets or more information about the show click here.
Comments
comments