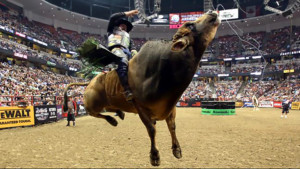 The 'Major Leagues' of bull riding has picked Charlotte as one of its premier stops on the national championship circuit.
This year's 'Built Ford Tough Series (BFTS)' is the most watched Professional Bull Riders (PBR) tour in the world, which climaxes in the PBR World Finals in Las Vegas, Nevada. The top 35 riders of the PBR compete in the BFTS with the rankings determined by points won.
Only the top 35 riders in the points standings can achieve seeded positions on the tour, while riders below that standard may need to ride on one of the PBR's minor league tours (the Touring Pro Division or the BlueDEF Tour) in order to earn their way back onto the BFTS tour.
Here is some of what you might see at the event;
The competition will take place at the Spectrum Center (formerly known as the Time Warner Cable Arena) in Uptown Charlotte on the weekend of September 17th.
For more information or for tickets click here.
Comments
comments