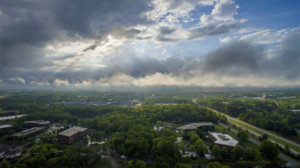 Earlier this evening, a freak storm blew through the Charlotte region, bringing with it heavy rains, flash flooding, and even a possible tornado.
The Charlotte Motor Speedway seems to have been hit the worst, with flooding under several bridges and huge tree branches falling on cars.
According to Charlotte meteorologist Brad Panovich, a small tornado or micro-burst appears to have hit the Speedway at 5:40pm this evening;
A flash flood warning has now been issued for the greater Charlotte region from the NWS;
The National Weather Service in Greenville-Spartanburg has issued a
* Flash Flood Warning for southwestern Cabarrus County in the Piedmont of North Carolina, northeastern Mecklenburg County in the Piedmont of North Carolina until 1000 PM EDT.
* At 706 PM EDT, Doppler radar and area rain gauges measured 1 to 2 inches of rain fell in less than an hour earlier. This is causing rapid rises on area streams and also producing lingering flooded roads due to poor drainage.
* Some locations that will experience flooding include; northeast Charlotte, West Concord, Harrisburg, Reedy Creek Park, Charlotte Motor Speedway, unc Charlotte, croft, Hidden Valley, downtown Concord and Huntersville.
* Back Creek is likely to flood and will impact Stallings Road between Middleton Circle and Quail Hollow drive. Homes on Fairgrove Lane may also be affected by rising creek levels. Flooding in Rocky Meadows and Middleton subdivisions on Rocky River Road will be likely. Mallard Creek and Rocky River may also flood upstream of Irish Buffalo Creek near Harrisburg.
A Tornado Warning has also been issued for Stanley and Montgomery Counties;
The National Weather Service in Raleigh has issued a
* Tornado Warning for Northwestern Montgomery County in central North Carolina East central Stanly County in central North Carolina…
* Until 800 PM EDT
* At 736 PM EDT, a severe thunderstorm capable of producing a tornado was located near Albemarle, moving northeast at 20 mph.
HAZARD…Tornado and quarter size hail.
SOURCE…Radar indicated rotation.
IMPACT…Flying debris may be dangerous to those caught without shelter. Mobile homes may be damaged. Damage to roofs, windows, and vehicles is likely.
* Locations impacted include Badin, Morrow Mountain State Park and Lake Tillery.
Several areas around the Charlotte region have already begun to flood;
When Irwin Creek floods it takes over our carpool circle and parking lot. pic.twitter.com/y8FgD88Fj4

— Susan Hooper (@suehoop_susan) April 24, 2018
Please help spread the word.
Comments
comments