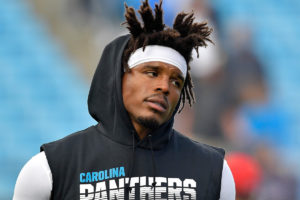 The Carolina Panthers' coach Ron Rivera has just announced the starting quarterback for this week's upcoming game against Houston.
To many reinvigorated fans delight, Rivera said that Kyle Allen will be our starting QB, due to Cam's persisting foot injury.
"What Cam needs right now is time and rest for his foot. We want him at 100 percent when he's ready, so there's no exact timetable for his return," head coach Ron Rivera said. "At this point, we're going to go forward with Kyle (Allen) as our starter."
This past weekend, Allen had a truly unbelievable game as he led the Panthers to a 38-20 victory over the Cardinals after 2 straight losses with Cam at the helm.
Allen completed 19-for-26 passes with a total of 261 yards, including 4 touchdowns and a 144.4 passer rating.
Do you think the Rivera should keep Allen in the starting position even after Cam's foot heals? 
Comments
comments