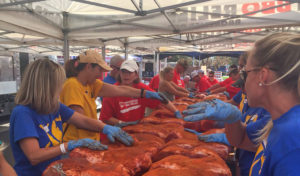 Operation BBQ Relief (OBR) was originally founded in May of 2011 to help bring relief to Joplin, Missouri after a tornado ravaged the area. Dozens of volunteers from competition BBQ teams from 8 different states joined together to help feed displaced families, police, fire, National Guard and emergency personnel.
OBR continued to grow over the years into one of the biggest food-based relief organizations in the South East.
Once Hurrican Florence hit the Carolinas, the organization quickly assembled hundreds of volunteers and pitmasters at 815 S. College Rd. in Wilmington, NC to provide meals for first responders and residents impacted by the storm.
According to their recent press release;
More than 220,000 meals have been served during this deployment, from Monday, Sept. 17 through Monday, Sept. 24, making this one of OBR's largest deployments ever.
Meal preparation commences each day at 6 a.m., while the commercial-size barbecue pits are then loaded again in the late afternoon to begin the next day's meals – low and slow isn't just a catch-phrase, but how OBR prepares great barbecue meals.
More than 450 volunteers have participated to help the community, including locals impacted by the storm and flooding.
You can find out more about OBR or donate on their website here, and be sure to follow them on Facebook and Twitter.
Comments
comments