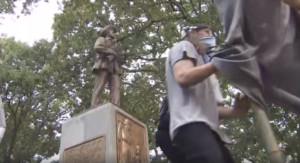 Today, a North Carolina state court reversed a settlement under which the UNC system would provide a $2.5 million giveaway to the Sons of Confederate Veterans over the Silent Sam statue, which was torn down by students during a protest in 2018. The settlement was based on a lawsuit which claimed the UNC Board of Governors and SCV had colluded on for the sole purpose of the payout.
The judge's reversal is the product of legal action by five UNC students and a faculty member represented by the Lawyers' Committee for Civil Rights Under Law which challenged the jurisdictional basis for the settlement. Previously, the judge denied the students and faculty member the ability to formally intervene in the suit, but nonetheless re-opened consideration of the merits of the settlement and allowed the students and faculty member to submit a brief.
"Today is a important victory for the people in confronting the false and divisive Lost Cause narrative and the racist ideology it entrenches," said Elizabeth Haddix, a managing attorney of the North Carolina Regional Office of the Lawyers' Committee for Civil Rights Under Law.
What do you think about the decision? 
Comments
comments