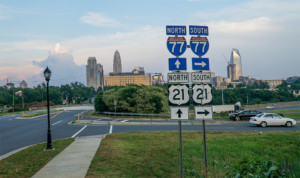 According to the United Van Lines' 2017 National Study, North Carolina is officially the #8 most moved-to state in America for 2017 (Charlote was also ranked the #9 most moved-to city in America).
United Van Lines is the biggest moving company in the country, helping tens of thousands of families move all of their belongings each year.
To determine the top cities being moved to, United analyzed their domestic moves during the entire 2017 year.
The Tar Heel State ranked just under South Carolina for the top inbound states of last year;
1. Vermont
2. Oregon
3. Idaho
4. Nevada
5. South Dakota
6. Washington
7. South Carolina
8. North Carolina
9. Colorado
10. Alabama
"This year's data reflects longer-term trends of movement to the western and southern states, especially to those where housing costs are relatively lower, climates are more temperate and job growth has been at or above the national average, among other factors," said Michael Stoll, economist and professor in the Department of Public Policy at the University of California, Los Angeles. "We're also seeing continued migration to the Pacific Northwest and Mountain West as young professionals and retirees leave California."
What do you think about all the newcomers moving to our state?
Comments
comments