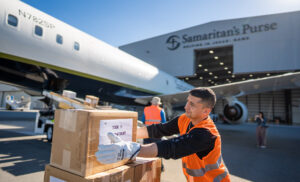 North Carolina-based Samaritan's Purse is about to set up a 30-bed field hospital in the heart of Ukraine's war zone.
According to a press release from the charity, their cargo plane took off this morning from Greensboro with the initial physical components of the hospital, as well as a Disaster Assistance Response Team (DART), including doctors, nurses, and logistics and set-up personnel.
Once set up, the hospital will include an operating room capable of performing up to 15 surgeries per day, an ICU, ER, pharmacy, as well as an integrated water source and sanitation system. The charity estimates that it's 50+ in-field staff members will be able to help up to 100 patients per day. The hospital could be operational by next week.
"Ukrainian families are hurting and in desperate need of physical aid and prayer during this difficult time," said Franklin Graham, president of Samaritan's Purse. "We are deploying life-saving medical care to aid people who are suffering. We want to meet the needs of these families in their darkest moments while pointing them to the light and hope of Jesus Christ."
You can find out more information about helping or giving on Samaritan's Purse website here.
Comments
comments