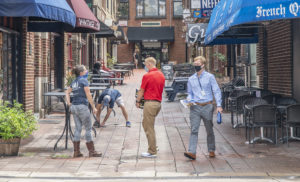 The State of North Carolina has just recorded the highest number of new Covid-19 cases in 1 day, again.
Yesterday, officials with the NC Department of Health and Human Services announced that there were a total of 5,637 new cases over a 24-hour period – the highest number our state has seen since the pandemic started (beating the previous highs of 4,514 on 11/22, 4,296 on 11/19, 3,885 on 11/14, and 3,119 on 11/11).
We've also been seeing an increase in the number of hospitalized, with a total of 2,101 Covid-19 patients currently undergoing treatment.
While cases and hospitalizations reach record highs, there is some good news on the horizon – North Carolina is about to receive its first shipment of vaccines from both Moderna and Pfizer.
The state is currently expecting to receive at least 85,000 vaccines from Pfizer on the week of December 14th and the first shipment from Moderna to arrive the following week.
According to North Carolina's Official COVID-19 Vaccination Plan, high-risk emergency healthcare workers and long-term care facilities workers will be at the top of the state's priority list for vaccines.
Until we have enough vaccines for everyone in the state who wants one, please continue to practice the 3 Ws:
❗ NCDHHS recorded the highest number of COVID-19 cases today, with more than 5,600 positive cases reported. We need to use the tools that we know work to protect our loved ones from COVID-19.

That means continuing to practice the 3 Ws and downloading the SlowCOVIDNC app. pic.twitter.com/7Mluh9W70A

— NCDHHS (@ncdhhs) December 3, 2020
Comments
comments