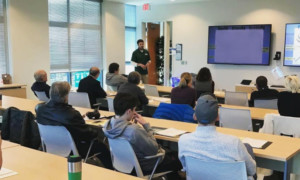 Today, the North Carolina Department of Health and Human Services, along with the North Carolina Department of Public Instruction, unveiled the $1 billion North Carolina School Behavioral Health Action Plan. This initiative seeks to address the pressing mental and behavioral health challenges faced by young people through strategic investments in schools.
Schools serve a vital function in promoting student well-being by offering easily accessible behavioral health support. This is especially crucial in North Carolina, where over half of the young people with mental health issues are not receiving the required care, and a similar percentage of the state's counties lack a child psychiatrist.
"Addressing the youth mental health crisis requires a commitment to meeting children where they are," said NCDHHS Secretary Kody H. Kinsley. "That's why we are investing in our schools, so our teachers and school staff have the tools they need to help prevent behavioral health crises through early intervention and prevention."
The total investment specifically includes:
Increasing capacity of schools to identify and address behavioral health needs through student-focused prevention and support services.
Training school personnel to better recognize and respond to emerging behavioral health issues.
Establishing school-based telehealth pilot programs to expand behavioral health care access for approximately 10,000 students in high need and rural districts.
Flexible funding to local School Health Advisory Councils to support coalitions of parents, school staff and community members investing in behavioral health resources to meet local needs.
Connecting schools and families with behavioral health partners in their community.
Funding a new statewide electronic health record system to secure student health records and enable records to transfer when students move.
What do you think about the new plan?
Comments
comments