The NC Department of Transportation and NC Turnpike Authority just announced plans to start construction on Charlotte's third major toll lane project on I-485 this summer.
The plan calls for adding 17 miles of toll lanes in both directions of I-485 between I-77 and U.S. 74. The state would also add another general purpose lane in each direction between Rea and Providence roads.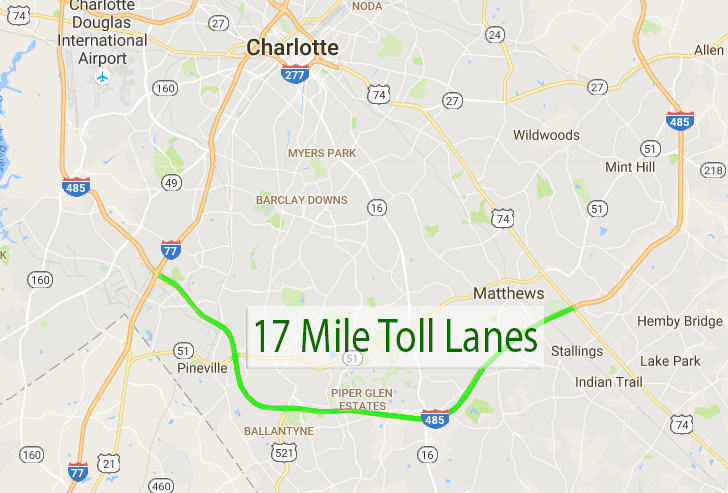 The plan would differ from the toll lanes now being built on I-77 in that they would be built by the state, instead of by a private company (Cintra), so they would not need to make a profit – theoretically, this should make the toll lanes less expensive to travel on.
According to the NCDOT:
"The proposed project will add one express lane in each direction on I-485 between I-77 and U.S. 74 (Independence Boulevard). The proposed improvements will provide travel time reliability and improve traffic flows on this critical transportation corridor. This project will serve as part of a larger network of express lanes to offer drivers a new traffic choice – pay a fee and ride in the express lanes to avoid traffic delays or continue driving in the general purpose lanes for free."
The total cost of the project is expected to be $289.5 million, they hope to open the toll lanes in late 2020.
This will become the 3rd major toll-road project around the Charlotte region, including the I-77 toll lanes and The Monroe Expressway.
You can find out more about the project and leave comments at publicinput.com/I-485-Charlotte.
Comments
comments