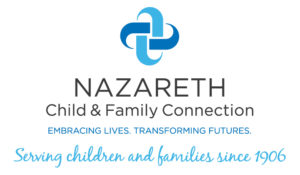 Nazareth Child & Family Connection finds itself in a unique situation in these days of COVID-19, social distancing, and quarantine.
Like many nonprofits, its services are considered essential, but a good portion of its services go beyond essential. Indispensable may be a better way to describe its mission, and that's starting to put a strain on its financial infrastructure.
"Much of what we do here at Nazareth is 24-7. There is no working at home for many of our staff members; this is home," said Vernon Walters Jr., president and CEO of Nazareth Child & Family Connection. "We have almost 40 children that we provide residential care and we have so many who rely on our three clinics for outpatient substance abuse therapy and those with mental health and behavioral health needs.
"Our centers can't close their doors; they must remain open."
For 114 years, Nazareth has been providing a safe and nurturing residential environment for children in need. In addition to the residential services for children and foster care program, Nazareth Child & Family Connection has three outpatient facilities located in Salisbury, Lexington, and Albemarle serving individuals with mental health, substance abuse, developmental disabilities, as well as behavioral health needs.
Nazareth has 70 fulltime employees and at least that many more part-time workers. A few have been able to move to work-from-home status, but onsite staffing remains the norm because of the nature of the work.
Walters said they have implemented telemedicine options that could help at Nazareth's outpatient facilities.
The cancellation of school has increased the workload at Nazareth's residential campus in Rockwell. Its day-treatment staff, which normally works on behavioral and social skill development, as well as academics, with youth who do not fit into the traditional classroom setting, is now working in the six homes on campus providing supervision and school aid from 9 a.m. to 11 a.m. and 1 p.m. to 3 p.m. Each home has 24-hour supervision.
To avoid group gatherings of 10 or more, residents are now eating meals in their homes instead of the campus cafeteria. For the same reason, each home has a scheduled playground time.
"Our homes have been isolated since school has been out as a precaution before legislation required it," said Walters. "They are solely eating in their homes. There are no off-campus activities, no group activities, no volunteers allowed on campus. Any visitors must make appointments prior to their arrival to campus to confirm any precautionary measures that may be in place due to continuous changes."
Nazareth's Thrift Store, a consistent stream of income for the nonprofit, closed last week to protect customers, donors, and employees from COVID-19. It will reopen, but as for everyone, when that reopening comes is still a guess.
While's Nazareth's largest fundraiser of the year, the 114th Annual Fun Fest on June 6 is still scheduled, some of their fundraisers, like last weekend's Deckerz Golf Tournament in Myrtle Beach, S.C., have either been postponed or canceled.
"Nazareth will continue to provide services to our residents and clients regardless of whether funding can pay for these services at this time. We are confident that our supporters, friends, and donors will aid in our needs," said Walters, adding many volunteers have already delivered supplies and others are still collecting.
"We are committed to providing support throughout this pandemic and in time, our operations will become normal again thanks to community support and action."
Comments
comments