Chanticleer Holdings, Inc. (NASDAQ:BURG) today announced the grand opening of its newest Little Big Burger ("LBB") in Cornelius, North Carolina. This is the Company's first LBB location with its partner and new brand ambassador, NASCAR driver Denny Hamlin. The agreement also includes an option for an additional nine potential future locations.
Hamlin is a bona fide NASCAR superstar. The driver of the No. 11 Toyota for Joe Gibbs Racing became the first rookie to ever qualify for the NASCAR playoffs and has qualified for the playoffs in 12 of his 13 full seasons racing in NASCAR's elite level. Hamlin's 31 NASCAR Cup Series victories place him 25th on NASCAR's all-time win list, which includes a win in the 2016 Daytona 500.
"I'm excited to open my first Little Big Burger in the same town where I live," said Hamlin. "I'm a huge fan of Little Big Burger. The burgers and fries are as good as you can get. As a shareholder in Chanticleer, I have been impressed with the management team that they've assembled with Little Big Burger. I look forward to helping them expand this concept to the Charlotte, North Carolina market."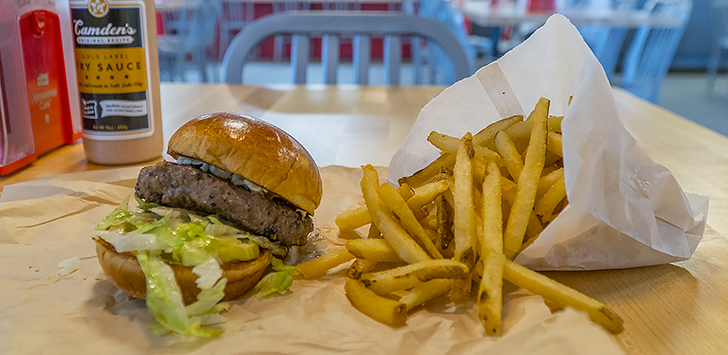 Mike Pruitt, Chanticleer Holdings Chief Executive Officer, stated, "We're clearly pleased to open this location with Denny hot on the heels of just opening our first Seattle location in recent weeks. That location has already eclipsed our early expectations."
Pruitt continued, "Anyone who follows NASCAR already knows what a great driver Denny is on the race track, but what is lesser known is how charitable of a person he is off it. We believe Denny is an excellent partner and ambassador for the LBB brand. We look forward to working with him to further grow our store count, as well as helping to build awareness and goodwill."
This coming Tuesday, October 30th, the Charlotte region's newest Little Big Burger will be hosting a 'free burger day' from 11am – 9pm and we will be giving away free burgers to the first 500 customers;
You can follow LBB Cornelius on Facebook at facebook.com/Little-Big-Burger-Cornelius. Hamlin can be followed at facebook.com/DennyHamlin, @dennyhamlin and @dennyhamlin.
Comments
comments