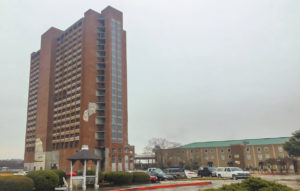 A Hollywood film crew is headed to Charlotte to film a new movie about Jim Bakker, his tv show, and his 'PTL' resort and studio complex in Fort Mill (currently owned by Morningstar Ministries).
The new film will be called "The Eyes of Tammy Faye" and will star The Amazing Spiderman's Andrew Garfield and Zero Dark Thirty's Jessica Chastain, according to The Hollywood Reporter.
The casting company for the new movie is now seeking paid extras. Filming is now scheduled for November and December of this year.
If you'd like to apply, you can submit two current photos of yourself — a close up and a full length, along with your name, phone, age, city, state, height, weight, clothing sizes and a description of any visible tattoos and piercings to Charlottemovieextras@gmail.com, with a subject line heading of your ethnicity, gender, age and city and state.
The infamous televangelist Jim Bakker is most well known for scamming investors out of millions of dollars to build Heritage USA, a sprawling 2,300-acre tv broadcasting, conference, and amusement park complex in Fort Mill.
The complex first opened in 1978, and by 1986 it was attracting nearly 6 million visitors annually and employing about 2,500 people from around the Charlotte region.
Throughout most of the 80s, Jim Bakker was investigated on a slew of embezzlement, fraud, and rape charges.
In 1982 the FCC sent a detailed fraud report to the Justice Department. They decided not to press charges due to insufficient evidence. Bakker then used the controversy to raise even more funds from his audience, branding the investigation as a "witch-hunt".
In 1988 he was arrested on 8 counts of mail fraud, 15 counts of wire fraud and, 1 count of conspiracy.
A Charlotte jury found Bakker guilty on all 24 counts and he was sentenced to 45 years in federal prison and given a $500,000 fine. His prison sentence was reduced to 8 years in 1992. He was paroled in July of 1994, after serving almost 5 years in jail.
In 2003, he relaunched his televangelism career with a new daily show called The Jim Bakker Show, co-hosted with his second wife, Lori.
Comments
comments