Yesterday's rally in Gastonia may be one of the biggest events to ever take place in the small city (the secret service said up to 35,000 were in attendance), but it also may become one of the most dangerous, given our state's recent spike in Covid-19 cases and related deaths.
Organizers at the Gastonia Municipal Airport initially planned for a crowd size of 15,000, but when the President saw that the lines continued to stretch down the street after the space reached capacity, he told police to continue to let people pack in.
During the event, President Trump recalled his conversation, ""Sir, I'm sorry. We can't let anyone else in." said the police. I said, "Officer, we have 10,000 people out there, much more than that. All the way down." And he said, "I'm sorry, sir." I said, "It's a field. Just let's open it up. Let's move the trucks back, the buses, everything." They said, "Sir, we have a problem." "What?" "Stampede." I said, "Stampede." He said, "We got so many people. We're worried about it." "I thought that was for cattle. Right?" He said stampede. No, can you imagine? Now, Joe doesn't have that problem. He has about four or five circles. Nice wide, beautiful, everything. You know, I'm a perfectionist. It's beautiful those circles. They're very far away from each other. You couldn't catch COVID in those circles no matter what you did." 
When President Trump finally took the stage at about 7:15pm, the entire event space was virtually shoulder-to-shoulder with almost no social distancing to be seen.
To make matters even worse, less than 1/4th of the crowd were wearing masks (by my estimate). This was in stark contrast to those who were placed directly behind the President during his speech (who would be seen on camera). According to attendees, those placed behind the president were specifically told to keep their custom "MAGA" masks on for the duration of the event.
Here is a shot showing the difference in mask wearing directly behind the President and just to the right of him: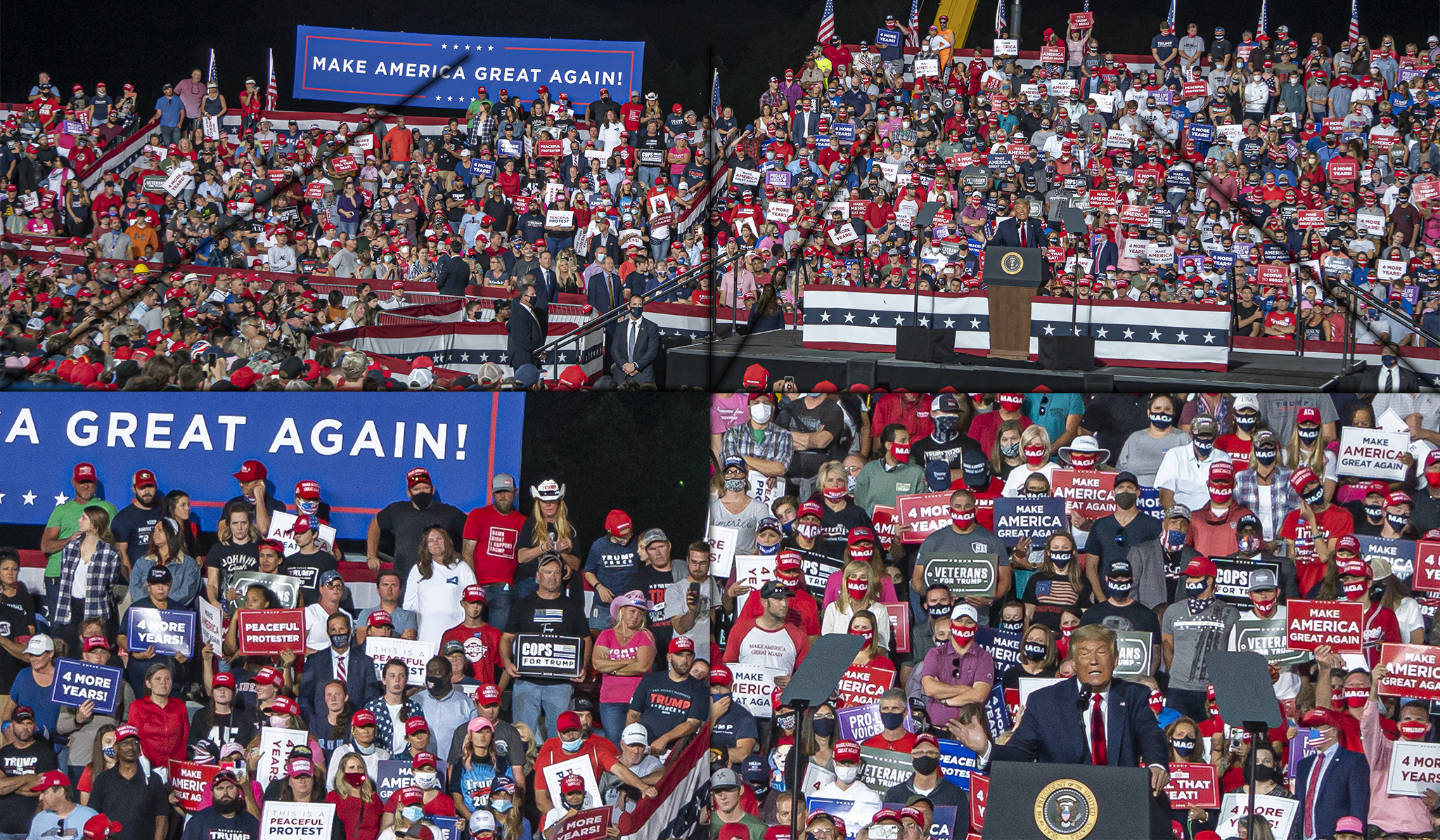 Here are some other shots of the crowd that was not directly behind the president for his speech:


What are your thoughts on last night's rally?
Comments
comments