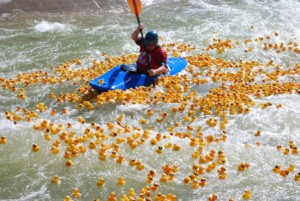 For over 40 years now, KinderMourn has provided help, hope, and healing to countless hurting parents and children. Their primary mission is to provide counseling services for parents who have experienced the death of a child and children and teens grieving the death of a parent, sibling or loved one.
For the past 14 years, they've been racing little rubber ducks for hope, and on Sunday, April 29th, they hope to break all past records for the number of rubber ducks dumped into the U.S. National Whitewater Center at once.
Each duck will be floated in honor and in memory of someone who has died too soon.
The 14th Annual 'Hope Floats' Duck Race will take place at the U.S. National Whitewater Center on Sunday, April 29th, 2018. Thousands of Charlotteans of all ages will line the banks of the main channel to watch over 30,000 adopted (and adorable), sun-glass wearing, rubber duckies brave the rapids towards the finish line.
The free event begins at 2pm with face painting, balloon art, kids activities.
The official 'Ducks Splash' at 3:30pm, if your lucky duck is one of the first to cross the finish line, you could win a grand prize of $2,500!
You can find out more information or adopt your very own duck here.
Comments
comments