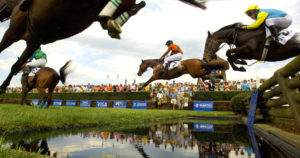 There are very few horses in horse racing history that have made such an impact in a small amount of time as Risen Star. His successes, while there were few, were all impressive in their own right.
This thoroughbred stallion was born on March 25th, 1985, and went on to have an impressive career before his retirement in 1988.
His racing history is filled with victories, impressive feats, and a small amount of controversy. Being active for only 3 years, Risen Star wasn't able to show the world his full potential but what he did show was impressive nonetheless.
Below we outline the successful albeit short career of Risen Star and how he is one of a few horses to get a race named after them.
Pedigree
The pedigree of a horse can both help and hinder them. As you may see with the horses participating in the 2022 breeders cup, having a good pedigree gives them good racing genes but also high expectations to live up to.
Risen Star arguably had some of the largest expectations being sired by the legendary Secretariat. Secretariat is considered one of the greatest racehorses of all time being a Triple Crown winner and inducted into the US Racing Hall of Fame in 1974.
Secretariat himself was sired from an impressive stallion, Bold Ruler. Bold Ruler was the 1957 Horse of the Year and is known as one of the best sires in horseracing.
Risen Star is known as Secretariat's most successful child for his accomplishments on the track.
Racing Career
Throughout his career, Risen Star only raced 11 times, never placing below 3rd and winning 8 of his races. He earned just over $2 million through his victories ($1 million of which was achieved through winning the Chrysler Triple Crown Bonus).
His trainer and owner, Louie Roussell III, was a devout Roman Catholic and donated 10% of the winnings to a Roman Catholic order of nuns called the 'Little Sisters of the Poor'. 
After winning the Minstrel Stakes in 1977 he went on to participate in the Kentucky Derby. He ended up coming third in a historic race against Winning Colors who became the third filly to win the Kentucky Derby.
From his debut in the Kentucky Derby, Risen Star was under jockey Eddie Delahoussaye who was a skilled rider who would go on to win 6,384 races before retiring in 2003.
Major Victories
Risen Star won his first and only Preakness Stakes in 1988, beating out Winning Colors who came third in the race overall. This is one of only two times 3 generations of horses (Risen Star, Secretariat, and Bold Ruler) have won the Preakness Stakes.
This victory was considered controversial because Risen Star won the race while the leaders were busy dueling each other. Many saw this as him achieving an easy victory.
When it came time for the Belmont Stakes, it was the opportunity Risen Star needed to prove that he was worthy of the win at Preakness. However, his status about returning was up in the air as he has sustained a bruised leg before the race. 
Risen Star did make it to the Belmont Stakes and the fear of his injury was quickly diminished when he was able to run a 33 ⅗ second drill run on the track.
In the end, Risen Star won by 14 ¾ lengths proving that he was a force to be reckoned with. This became the fourth fastest time at Belmont Stakes at 2:26 ⅖ with the fastest being Secretariat at 2:24.
In 1988, Risen Star was awarded the US Champion 3-Year-Old Colt. The Horse of the Year honors that year went to Alysheba.
Retirement And Risen Star Stakes
An injury during the Belmont caused Risen Star to have an unfortunate early retirement. If it wasn't for that, many believed he would've gone down in history as one of the greats with further accomplishments.
Risen Star went on to sire Star Standard and Risen Raven. Star Standard would go on to become a Grade One winner.
Risen Star passed away on the 13th of March 1998. He is buried at Walmac International, the farm he retired to.
The Risen Star Stakes is a Kentucky Derby prep race that was initially called the Louisiana Derby Trial but was renamed in 1988. This was after Risen Star won the race and then went on to win the Preakness, Belmont, and the Eclipse Award.
By receiving the Eclipse Award, Risen Star became the first 3rd generation winner after his sire Secretariat won in 1973, and his grandsire Bold Ruler won in 1957.
Final Thoughts
Risen Star is known to be the pride of Lousiana, he left a memorable legacy for the short time he was on the track. He was seen as the people's horse for battling against all adversity and helping people in need through charitable donations and visits. 
When it comes to potential, Risen Star had it in mountains, his early retirement was a huge loss for the sport of horse racing but he will always be remembered as a fierce opponent.
Comments
comments