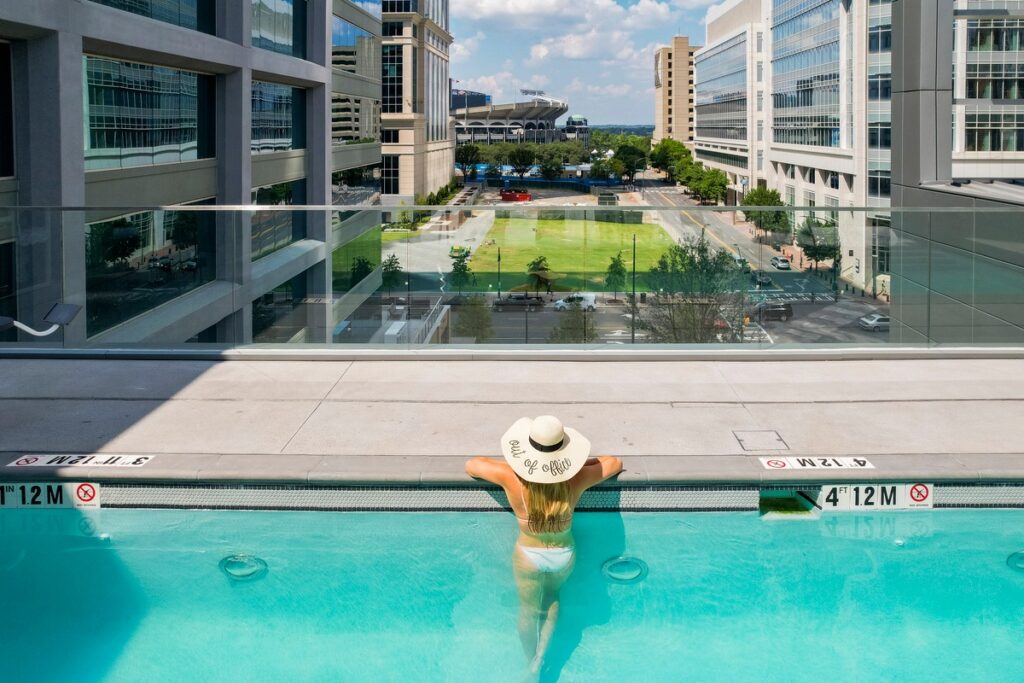 Premiere hotels in major cities around the world have often turned heads by offering over-the-top packages to VIP guests. JW Marriott Charlotte can now add its name to that list with an epic $8,000 per night experience.
The announcement comes as JW Marriott prepares to celebrate its one-year anniversary on August 17th, marking the luxury  brand's notably successful entrance into the Charlotte market as well as White Lodging's first property in the southeast.
Delivering all the extravagant features one could ever image for the ultimate luxury hotel experience, JW Marriott Charlotte's Elevated Luxury Package offers guests: 
Presidential Suite Accommodations –

indulge and unwind in JW Marriott's 1,100 square foot top-level  accommodations, overlooking the hotel's rooftop pool and featuring an expansive dining table, living area, attached  bedroom with ensuite bathroom featuring an oversized shower, in-room espresso maker, and well-appointed plank  flooring and recessed lighting 

Personal Concierge Service –

guests will have a personal assistant at their beckon call for the duration of their stay,  providing first-class 24/7 service from check-in to check-out 

In-Room Self-Service Bourbon Bar –

fully stocked with premium brand bourbons and featuring all the ingredients to  create a your very own signature Old Fashioned from the comfort of your suite 

Exclusive Cabana at Aura Rooftop –

exclusive access to a private shaded oasis with premium cushioned seating,  chaise lounges, HDTV, all-day access to the rooftop pool, plus a mini-fridge stocked with water bottles and energy  drinks, scented towel service, and botanical-infused gin & tonic popsicles. 

Complimentary Limousine Service –

providing luxury transportation to a wide variety of key destinations within 25  miles of Uptown Charlotte 

Indulgent Ritual Package for 2–

featuring Spa by JW's Platinum HydraFacial, Slimming Body Ritual and Goddess of  the Sun Pedicure  
"The level of luxury and attention provided through the Elevated Luxury Package is simply unmatched in the city of Charlotte,"  said David Malmberg, General Manager of JW Marriott Charlotte. "We are so excited to celebrate our first year in Charlotte by providing a truly unprecedented hospitality experience that showcases the very best the JW Marriott brand has to offer."
JW Marriott is part of Marriott International's luxury portfolio and consists of beautiful properties and distinctive resort  locations around the world. JW hotels offer crafted experiences that bring to life the brand's commitment to highly  choreographed, anticipatory service and modern residential design, allowing guests to pursue their passions and leave even  more fulfilled than when they arrived. Guests of JW Marriott Charlotte enjoy luxurious, well-appointed rooms with upscale  amenities, a 24-hour fitness center, rooftop bar & pool, Spa by JW, and authentic restaurant dining reflecting local culinary  favorites.
For guests interested in indulging in Charlotte's ultimate luxury hotel experience, team at JW Marriott Charlotte is taking Elevated Luxury Package reservations now through the end of 2022 (based on availability).
Comments
comments