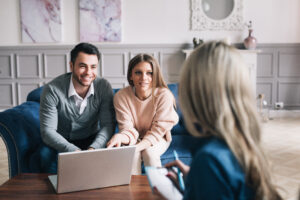 If you've been browsing around Charlotte for a new rental, you've seen low vacancies and fierce competition to get a unique rental. 
The most competitive rental market report for 2022 revealed that Charlotte had the highest jump in the state for competitiveness for renters. 
And that trend is also a national phenomenon with a reported 95% occupancy rate, meaning finding a new rental is next to impossible. 
So what does that mean on the other side of the coin? For owners and landlords, rental properties are a boon. 
That's because, due to low inventory and high demand, the value of real estate continues to appreciate, even in inflationary times. Additionally, real estate is a finite item, is desirable, and will accrue more equity over time than almost any other investment. 
The benefit of real estate investing is that you can leverage your bank loan into making substantially more on your return. There aren't many other areas where you can take out a sizable loan on good repayment terms and use that money to make even more money. 
There are numerous ways to get ahead and make money in real estate. 
You could;
Buy and rent

Develop new construction

Wholesale

Fix-and-Flip

Buy and Hold
If you're looking to flip the script and go from a renter to a landlord or looking for different ways to get into real estate and make some money, understanding the various methods and how they may benefit your interests is a must. 
Buy and Rent
The process of becoming a landlord and renting properties is an easy one. First, you need to find a property that you can buy at a discount or below market, invest in a little touch-up or renovations, and rent it out at a slight monthly profit. 
To succeed, you'll need to evaluate how much you can charge over your mortgage to profit. For example, if your mortgage and taxes are $2,000 a month, and the market can shoulder a rental at $2,400, then you'll make $400 a month in profit on the property.

What's more, is that over time, as people rent out your property, they pay down the mortgage debt on the place so that, in time, the gains you get from your rental income increase while your debt obligations decrease. 
The concern with renting is that you're on the hook for significant issues with the property and any potential vacancies that may occur. 
Develop New Construction
Finding, permitting, and developing new property to sell or lease is another way to get involved in real estate. 
Suppose you have some assets that you can use as collateral. In that case, this may be an excellent way to make significant money, but only if you understand how to scout an area, acquire the rights to develop, and can deliver on the construction. 
Wholesale Real Estate
Wholesaling is the process of agreeing to buy a property and immediately selling those rights to a third party at a markup from the agreed price. Wholesaling in North Carolina is a great introductory way to get involved in real estate investing without significant capital. 
To wholesale, you would look to secure a contract with a seller and, in turn, have an agreement to sell that contract to some other party. 
To minimize your exposure, you would want to already have a potential buyer of your contract before agreeing to any purchase agreement. 
The difference in price between what you agree to buy the property at and the amount you're able to sell it is your profit. 
Wholesaling is similar to fix and flip, except with wholesaling, you never take hold of any property or contracts; you act as an intermediary between the seller and the secondary buyer. 
And if you're wondering is wholesaling real estate legal in North Carolina, the answer is yes. Wholesaling is legal in most states and allowable as most purchase agreements place the responsibility on both parties to fulfill the deal and is considered a civil matter. 
Fix and Flip
Maybe you've seen shows on DIY and Netflix where a person comes in, buys a broken-down home, rebuilds it, and sells it for a considerable profit. Well, if you have, that's the idea behind fix and flip. 
With a flipped home, you're looking to buy a property below market value, invest some money in renovating it, and put it back on the market quickly to maximize your profit opportunity. 
Buy and Hold
A buy and hold the standard way most people get into real estate investing. Buy and hold describes typical home ownership where the profit for the investor is measured in equity made over time as the debts are paid off and the home appreciates. 
Comments
comments