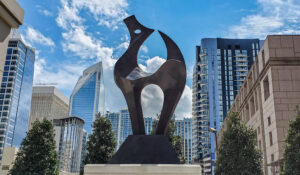 2022's Most Competitive Rental Market report has just been released, showing Charlotte with the highest jump in competitivity in the state during peak rental season and the highest increase in new apartments in 2022.
Finding an apartment was a tough row to hoe in 2022, even with apartment construction at an historic high. Nationwide, a staggering occupancy rate of 95.2% coupled with almost two-thirds of renters renewing their leases led to an average of 14 renters competing for each vacant unit.
Here are some key findings for Charlotte from RentCafe's study:  
With 95.1 % of rentals already occupied, no less than 14 renters competed for each vacant apartment in Charlotte this year. That said, no wonder apartments for rent in Charlotte got off the market in about a month, which is in line with the national average.

In these tight market conditions, 63.7% of renters chose to stay put and renew their leases, slightly more than the national average.

However, the impressive increase in new apartments has pushed Charlotte's competivity score lower. The market added 2.46% more units to its inventory in 2022, which is the highest growth in the state. More so, renters have more apartments to choose from in Charlotte than in smaller markets like Asheville, Fayetteville or Greenville.

Yes, but looking closer at changing market conditions throughout this year, we saw that rental competitivity in Charlotte increased by 18.8% during the peak rental season, when vacant apartments got filled faster and more renters applied for them. At a state level, Charlotte boasts the highest jump in competitivity, followed at a great distance by Asheville , which got 8% hotter in the second part of the year.
Comments
comments