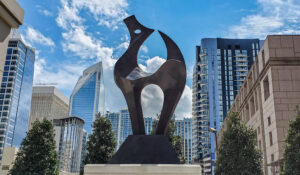 Amid a tight housing market, people remain renters for longer than before, so their expectations of what their homes must offer have also changed and developers have rushed to deliver. Riding the wave of migration, Charlotte is no exception and scores 19th place among the top cities that built the largest share of luxury rentals over the last decade.
Charlotte has seen a surge in building apartments that offer VIP treatment. That's according to our most recent analysis based on the ratio of high-end apartments out of the total deliveries in the last 10 years, in the US's 100 biggest cities.
Our main highlights on premier apartment living in Charlotte include:
Charlotte ranks in the top 20 in the nation for premier apartments, with 93% of its new apartments offering top-notch living.
In response to growing demand, over 46,600 units have been delivered in Charlotte over the last decade.
Charlotte apartments that fall under the "luxury" label come with plenty of space – 968 square feet on average, 100 more square feet more of space than the non-luxury ones.
Besides space, these apartments also provide a plethora of amenities. These include, among other things, resort-like pools, spas, tennis courts, EV charging stations and co-working spaces, as well as more practical features like outside storage.
Check out the full report for more detailed data, together with what experts have to say about the trends in luxury development, here: https://www.storagecafe.com/blog/mid-sized-cities-in-arizona-texas-lead-the-country-for-premier-apartment-living/
Comments
comments