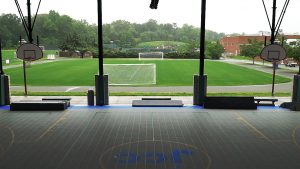 After a year of increased antisemitism and growing social service needs, the Jewish Federation of Greater Charlotte is convening the local Jewish community to volunteer, donate, and show support at Super Sunday 2022.
Super Sunday engages volunteers and members of the Charlotte Jewish community in a phone-a-thon to raise money to support the funding of Federation's more than 70 unique beneficiary agencies, programs, and initiatives that work to strengthen and unite the Charlotte Jewish community. Over 100 supporters are expected to attend throughout the day to help raise funds to meet the Federation's $5 million annual campaign goal announced last month.
Chaired by Eliza Carney, Kara Culp, and Rebekah Rubenstein, this year's Super Sunday is especially key to enabling Federation's efforts to ensure the local Jewish community can thrive.
WHEN:              Sunday, March 6, 2022
                         9:30 AM – 3:30 PM
 WHERE:           Sam Lerner Center for Cultural Arts at Shalom Park
                         5007 Providence Road, Suite 101
                         Charlotte, NC 28226
About the Jewish Federation of Greater Charlotte
The mission of the Jewish Federation of Greater Charlotte is to raise and distribute funds to support and enrich the lives of Jews locally, nationally, in Israel and worldwide. Through education and community building, the Federation's mission ensures that Jewish values, goals, traditions and connections are preserved for current and future generations. For more information, visit jewishcharlotte.org.
Comments
comments