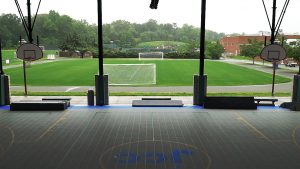 Following the recent hostage crisis at a synagogue in Colleyville, Texas, the Jewish Federation of Greater Charlotte held its annual campaign kickoff event with a heightened sense of urgency and unity.
On January 19th, members of the Charlotte Jewish community gathered in-person and virtually at Temple Israel as Federation announced its milestone goal of raising $5,000,000 in support of the Charlotte Jewish community.
"The Jewish Federation of Greater Charlotte is more determined than ever to raise funds to strengthen and safeguard the Jewish community from the growing threats of antisemitism and anti-Israel hatred that we face locally and globally," said Sue Worrel, CEO of the Jewish Federation of Greater Charlotte.
The $5 million Federation plans to raise in 2022 will support the necessary funding of the more than 70 unique beneficiary agencies, programs and initiatives for the Charlotte Jewish community. Beyond fundraising, the Federation continues to play a central role in convening the Charlotte Jewish community, especially in times of crisis such as the Colleyville hostage situation."
"It is a challenging time for all of us," said Main Event co-chair Ana Bonnheim. "But as Jews, we are used to making it through tough times. The sense of cohesion in the Charlotte Jewish community has never been stronger. Federation is truly the engine behind all of what makes our lives as Jews in Charlotte so enriching."
During the Main Event, co-chairs Ana Bonnheim and Lindsay Muns shared impact stories about how Federation's allocations make a difference in the Charlotte community. The following local leaders from four of Federation's beneficiary agencies in Charlotte also described how Federation allocations directly benefit their work: Brook Amo, Executive Director of Charlotte Jewish Preschool; Jen Rosen, Chief Advancement Officer of Moishe House; Bentzion Groner, Director of ZABS Place; and Rabbi Judy Schindler, Sklut professor of Jewish studies and Director of the Stan Greenspon Holocaust and Social Justice Education Center.
The Main Event's keynote speaker was Nancy Spielberg, businesswoman, philanthropist, and filmmaker. Spielberg told stories of her experience growing up in a small Jewish community and how her connection to Judaism and Israel inspired the stories she tells in her films and documentaries.
Comments
comments